We are happy to announce that our Rosemark Electronic Visit Verification (EVV) tools are certified for use in Arizona and meet AHCCCS (Arizona Health Care Cost Containment System) requirements to satisfy the regulations set forth by the 21st Century Cures Act. 
As of January 1, 2021, the AHCCCS now requires all Arizona home care providers of personal care services to be in compliance with these regulations. Now with this certification, Rosemark can help.
It's never too late to get organized and paid in a timely manner. 
Rosemark EVV Offers Integration with Sandata
The Rosemark System EVV tools integrate seamlessly with Arizona's chosen data aggregator, Sandata, and meet all federal and state requirements. Arizona home care providers can comply with regulations while continuing to provide clients with quality personal care services. 
Our EVV tools verify:
Type of service performed

Individual receiving the service

Date of the service

Location of service delivery

Individual providing the service

Time the service begins and ends
Rosemark's EVV Options: GPS-Enabled Caregiver App and Telephony
The Rosemark Caregiver App and a telephony service option can cover all of your needs for reporting clock ins and outs. Our Caregiver App is also available in both English and Spanish to allow your caregivers to choose their language preference when getting started with the app. Setup for both of our EVV options is simple and the tools are extremely user-friendly for your caregivers in the field.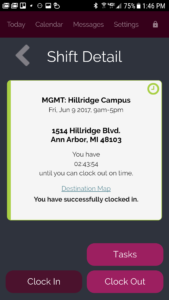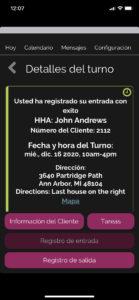 The Rosemark Caregiver App, available in English and Spanish, utilizes GPS-enabled location verification to confirm caregiver location at clock-in/clock-out and it can easily be accessed by caregivers from a mobile phone or other mobile device.
A Trusted Home Care Partner in Arizona and Beyond
The Rosemark System is designed specifically for the home care industry. Providers in Arizona and around the U.S. and Canada have relied on Rosemark's home care management software to operate their businesses for nearly three decades. 
When you work with Rosemark, you can be assured that the data and information you submit will be secure and accurate, allowing your business to receive reimbursements for qualified services without disruption. 
Rosemark Arizona Owner/User Testimonial:

My Arizona in-home care business has been using the Rosemark System for nearly eight years. We have had a wonderful partnership with them. I remain impressed with their professionalism, their prompt help, and their ongoing pursuit of making sure our needs are met. It is not uncommon for their customer care staff, or even company leadership, to check in to see if there is anything that could be improved with our current service and features. Most of the time, my suggestions are implemented within days. I can't think of better customer service than that!

Regarding the use of EVV to meet new state and federal regulations, I was adamant from the moment AHCCCS notified us of their new program that we would plan to continue our partnership with Rosemark. Now, throughout the whole process of getting prepared for the state's new process to begin, Rosemark's customer care team has been in contact often to reassure me that they've been working on getting all of the necessary credentials in place to certify their EVV system for use in Arizona under the state's new requirements. They have been wonderful during this whole process and I have no intention of switching to the state's EVV provider. 

Amy Smith

Alternate Solutions Care Giver Specialist, LLC

Lake Havasu City, AZ
Affordable EVV for Providers of all Sizes
Rosemark's EVV tools are priced to be competitive for home care providers of all types and sizes. Setup is easy and base monthly fees are minimal. 
Still confused about EVV? To learn more about how our EVV options can work for your business and make sure you're compliant with regulations in Arizona, contact us to speak with a Rosemark team member. 
Call 734-662-3537, email us at info@rosemarksystem.com, or fill out a short form to schedule a demo of our EVV options, including the Rosemark Caregiver App. 
The form referenced above could link to a landing page that just includes the form along with the following text:
Are you an Arizona home care provider in need of Electronic Visit Verification (EVV) tools?  Learn more about the Rosemark System and our EVV solutions. Schedule a free consultation with one of our experts, and let us help keep your business compliant with the new requirements.