Home Care Software Solutions

Premier Solutions for Care Operations
When you partner with Rosemark, you know you're working with a trusted team of experts in home care software who provide industry-leading customer care. Contact us online or call us today at (734) 436-2631.
Our system is customizable, scalable, and allows for skilled management of people, payors, outcomes, and data. We help you grow without huge IT investments and make sure your data is secure and accessible at all times and from all places.
Our multistep customer onboarding and ongoing support are unparalleled. As a Rosemark customer, you benefit from the expertise of an award-winning business with more than 30 years of home care industry experience. With extensive onboarding, continued training opportunities, and periodic usage checks, we make it easy for our customers to learn and get the most out of our software.
Our developers, customer care, and administrative team members meet regularly with our customers, hosting frequent peer-to-peer discussions and focus groups. Our focus is on our customers' needs and finding solutions that make their day-to-day operations run more smoothly.
Our intuitive and powerful home care agency growth applications help you keep building business to achieve growth and reach revenue goals.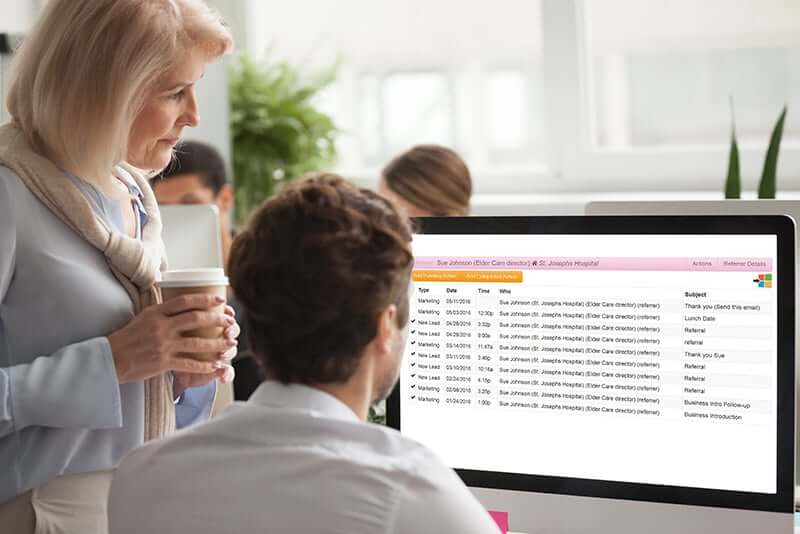 The Rosemark System can help you succeed in growing and scaling your home care agency so you can focus on delivering better care and improving client outcomes.
PayOr Diversification
Manage and report on multiple payor contracts
Move faster with integrated billing for private pay, long-term care insurance (LTCi), workers comp, VA benefits, and Medicaid
Streamline accounts receivables with payor-specific electronic billing methodologies
Meet 21st Century Cures Act requirements with our Electronic Visit Verification (EVV) system that integrates with Sandata Technologies, HHAeXchange, Netsmart (formerly Tellus) and other systems
Data Management
Record and organize call activity by client, caregiver, office staff, referral source, and more
Monitor daily office activities including real-time scheduling edits, trainings, interviews, and personnel matters
Customize payroll reports to track multiple pay rates, overtime pay, travel time pay, mileage, and reimbursable expenses
Maximize operational efficiencies, freeing up time to sell, market, and recruit
Marketing Metrics
Plan and measure sales outreach, lead generation, business introductions, and revenue reports by salesperson
Track and manage referrals to identify, nurture, and deepen key relationships
Capture data to provide detailed reports about referrals by company, number of referrals, and revenue generated
Manage client care effectively with a powerful caregiver management software that integrates with tools focused on efficient care solutions.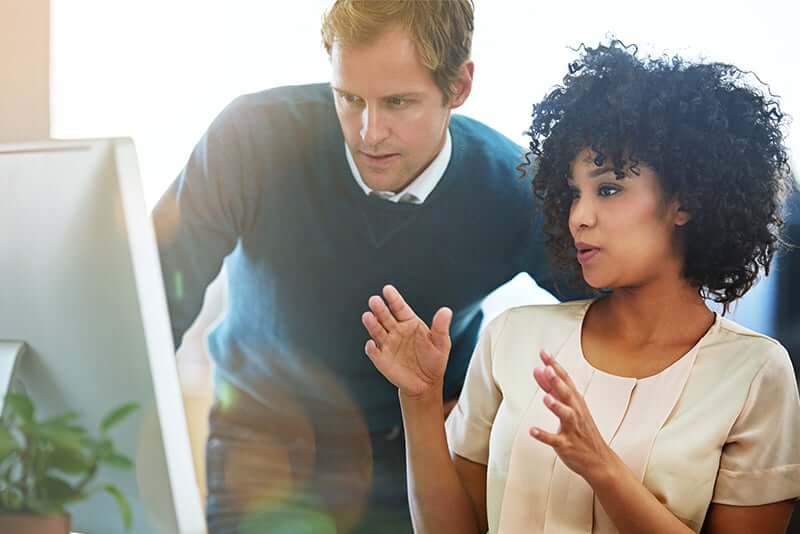 Unlike other home care software systems, Rosemark doesn't force you to use the same tools as someone else. Scheduling, authorization, and care plans are all designed specifically for the care of each client with our partners' unique needs in mind.
Client Management
Set up daily, weekly, biweekly, and monthly scheduling patterns and calendars with our flexible caregiver scheduling tools
Make instant decisions with color-coded action tags in the scheduling view
View multiple home care scheduling scenarios at one time, with the ability to prioritize and fill urgent care needs
Work on critical scheduling needs as a team with real-time collaborative scheduling
Record daily activities and tasks through an intuitive mobile app
Identify ideal client/caregiver matches based on availability, skill sets, and authorization requirements
Instantly view overtime scenarios
Care Plans
Create customized care plans for accurate, real-time assessments in the field
Utilize customizable EVV tool for caregiver task recording at each client interaction, prompting calls for action based on personal client care plan to ensure client health and safety
Change-of-Condition Reporting
Respond to notable changes in client condition to prevent unnecessary hospitalizations by adding client change-of-condition prompts
Report change-of-condition metrics to prove value and results to payers, referrers, families, and customers
Our powerful care management software helps you find and evaluate qualified candidates, increase retention by keeping employees happy, and communicate easily in a variety of ways.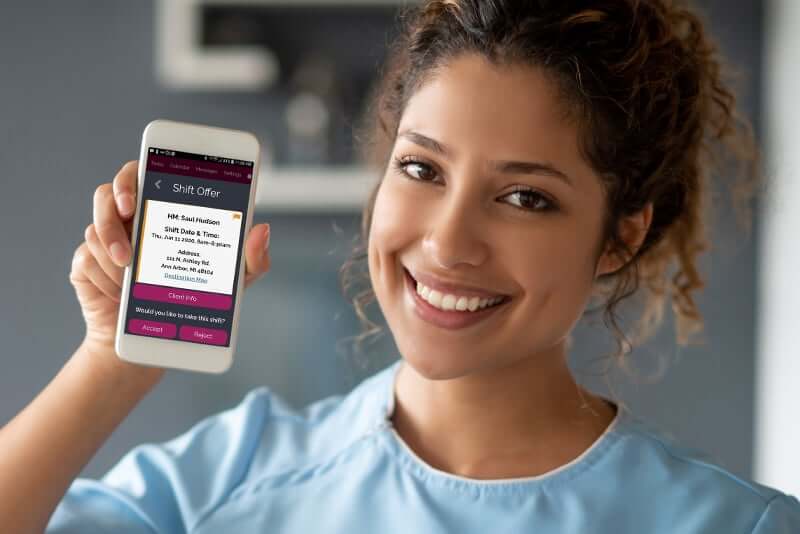 With Rosemark, you'll have access to a variety of tools like credential tracking that will help you take control of caregiver management instead of letting your caregivers manage themselves. Your home care agency will also be able to communicate important information such as offering shifts or sending holiday messages to your caregivers.
Hiring and Human Resources
Connect job applications to your website and job boards and receive email alerts for new applicants and have new applicant files automatically created within the system
Reward caregivers for meeting goals, providing superior service, achieving professional milestones, and serving as brand ambassadors
Get a better understanding of caregivers' performance, track their records of being late, canceling shifts, refusing shift offers, and no-shows
Run reports to keep track of expiring credentials for caregiver licenses, professional certifications, TB test compliance, CPR certification, auto insurance, training compliance, and authorized hours
Set automatic expiration reminders for certifications, licensing, and training
Stay compliant with multiple state regulations and payer contracts
Communications
Give your caregivers the ability to review their schedules, view client care notes, accept or refuse shift offers, and record completed tasks with Rosemark's easy-to-use caregiver app
Automate next-day shift reminders to notify caregivers via text, email, or both, to decrease absenteeism
Ensure seamless communication with customized group and broadcast messaging specific to individual clients or caregivers
Choose from email, SMS text, email-to-text, or phone messaging options
Customize shift offers by targeting qualified individual caregivers or groups of caregivers
Use a caregiver app that provides real-time clock-ins/outs, GPS location capability, activity monitoring, task prompting and recording, as well as no-show alerts and automatic shift verification
Electronic Visit Verification
Improve communication with your caregivers through automated no-show alerts, real-time shift details, and automatic shift verification
Experience enhanced communication capabilities including broadcast messages, personal messages, and voice mail recording
Record activities through the phone or mobile app to both track and prompt activity
Clock-in from any mobile device with GPS location capabilities, allowing office staff to monitor caregiver location
Meet 21st Century Cures Act requirements in many states and integrate with Sandata Technologies, HHAeXchange, Netsmart (formerly Tellus), and other systems
Rosemark's home care management software makes information flow easy. With a QuickBooks integration for billing and payroll, electronic Medicaid billing, and billing capabilities for the Veterans Administration, Long-Term Care insurance (LTCi), and workers comp insurance, the system features a full range of customized home care reporting options.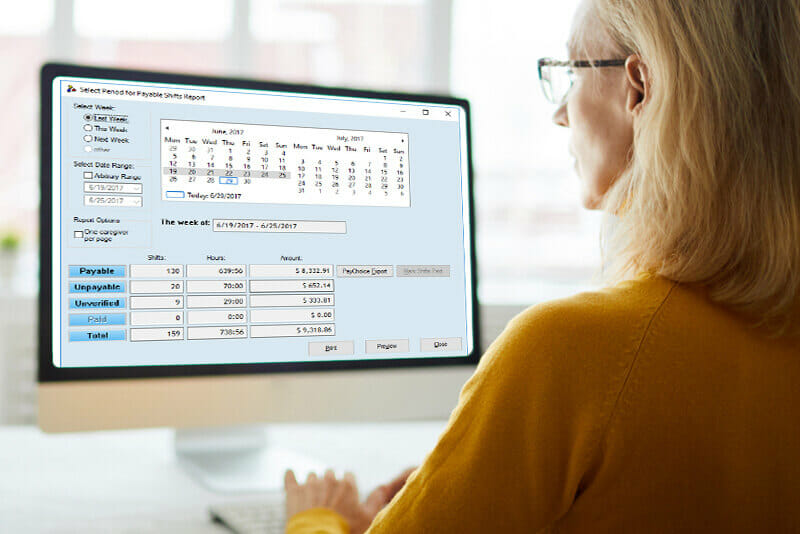 The Rosemark System helps non-medical home care agencies automate day-to-day operations like billing, payroll, and reporting, making your workflow more efficient.
Billing
Efficiently process invoicing with our 2-way integration that works with both online and desktop versions of QuickBooks, allowing agencies to seamlessly send invoices
Streamline processes and speed up billing and reimbursement with our:

Integrated long-term care insurance forms
Veterans Administration forms (CMS-1500 and UB-04)
Electronic Medicaid billing (837p & 837i)
Long-term Care Insurance
Workers compensation
Payroll
Efficiently process payroll with our two-way integration with QuickBooks (online and desktop versions) that allows providers to seamlessly send timesheet information
Customize caregiver payroll reports to track multiple pay rates, overtime pay, travel time pay, mileage, and reimbursable expenses
Export third-party payroll including data files, .csv spreadsheets for Paychex, ADP, and more
Reporting
Track data for multiple offices on one dashboard and analyze location-specific data in-depth
Analyze Key Performance Indicators (KPIs) and other business numbers including new client inquiries, lead-to-close rates, margins by client, and full-time equivalency (FTE) statistics
Monitor for unbillable shifts, unpayable shifts, and OT problems, allowing agencies to promptly make internal changes where necessary
Generate richly detailed data and statistics, including hours by service, hours by caregiver, and unscheduled shift hours
Get high-level or detailed minute-by-minute reporting on shift activities, including clock-ins/outs, caller ID, tasks, and reimbursements
Monitor Key Performance Indicators (KPIs), including hours per payer, inquiries and conversion percentages, referrers and associated revenue, lost cases, recruitment, staffing utilization, turnover, sales, profitability, quality and compliance, and more
Partner with the Industry Leaders
At Rosemark, we believe technology should not get in the way of operations. Instead, it should help you streamline your business to increase efficiencies, improve care outcomes, and lower costs. To learn more about our intuitive, user-friendly home care management software solutions, contact us online or call us today at (734) 436-2631 for a free consultation.