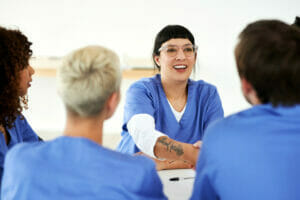 For many home care agencies today, staffing has become extremely challenging. Attracting and retaining caregivers is vital to the health of your agency. That means when hiring and onboarding new care staff, creating an enjoyable and efficient experience is crucial. Your caregiver onboarding process should allow you to set your caregivers up for success while instilling in them the core values and mission of your team and your agency.
While the onboarding process should be thorough, efficiency is also key. Whether you have recently established your home care agency or have been providing care for decades, there is always room for improvement in your processes, so gather your team and use the following tips to create a more effective and efficient onboarding experience for your new hires.
Talk to your current staff members. There is no better way to learn how to improve your current processes than by consulting those who have been through them – your staff members. Poll your staff about their onboarding experience. Ask what they liked about the process. What served them well? Were there steps they wish you would have taken? Did any part feel redundant or repetitive? Did they feel part of the team right away? Was there anything not covered – tools, technologies, policies, etc. – that should have been? Leverage the knowledge and experience of your current caregivers in order to build a better system.
Begin before the start date. Send all onboarding paperwork to your caregivers before their start date. This allows them to fill out as much of their documentation as possible, make note of any questions they may have, and feel better prepared and less overwhelmed on day one. Emailing information is fine, but today's job seekers often respond better via text. Send a welcome text notifying them to look for more information in their inbox.
Set clear expectations. From the very beginning, give caregivers clear expectations letting them know what is expected of them, why they are important to your team, and how they make a difference in the lives of your clients. This establishes a sense of clarity, purpose, and loyalty, setting your new caregivers up for success. In a more practical sense, don't forget to set clear expectations about your processes — the use of software as it relates to their job, how to clock in/out for work, forms or documentation that will need to be turned in for clients (if any), etc. Before their first day out in the field, make sure they understand all aspects of your process and that they know who to contact if they have questions. Often, pairing a new caregiver with a mentor from the team can both help your new employee feel equipped to navigate your systems, and provide a leadership role for a more veteran employee.
Make the experience enjoyable! In the rush to get caregivers up to speed and off to work, agencies often forget to make the experience enjoyable. Share your company culture with new employees to help them feel connected to the mission and overall vibe of your company. Create a welcome packet for new employees that both provides job essentials and a small token of appreciation. Take them on a tour of the agency and introduce new hires to other employees. Because so much of a caregiver's work is in the field, helping them make connections with other employees during the onboarding process can create a stronger sense of comradery.
Automate as much of the process as possible with a trusted home care software system. One of the best ways to improve upon caregiver onboarding efficiency is automation. Rosemark's customized home care business software can help agencies streamline many processes, including recruitment, caregiver onboarding, and retention. Our caregiver management tools simplify hiring, onboarding, and management of staff, freeing up more time to focus on ensuring your staff are satisfied – ultimately leading to improved client satisfaction as well.
If you're considering how to increase the efficiency of your caregiver onboarding process, contact Rosemark today at 734-436-2631 or schedule a free demo.