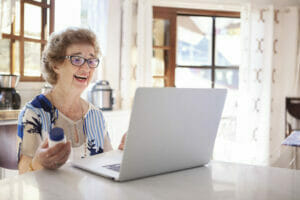 Increased Use of Remote Care Technology and New Legislation Offer Home Care Opportunities for Growth
The COVID-19 pandemic caused us all to think outside of the box. Status quo was no longer possible for many of the day-to-day activities we once took for granted, as social distancing became the new norm. Everything from grocery shopping to interacting with friends and family turned virtual, and health care was no exception. Although remote care technology, such as telehealth, had already been in the picture for years, its usage skyrocketed as patients realized they could still receive high-quality care from the comfort and safety of home.
Looking forward, as COVID-19 becomes endemic and we have the chance to get back to our previous in-person way of life, there are some aspects of pandemic-era living that will continue. Home healthcare technology solutions, for instance, are predicted to increase in popularity. In fact, a 2021 Current Health survey showed that a whopping 81% of health system leaders reported that they planned to boost investment levels in remote care technology over the next year.
In an email to Home Health Care News, Chris McCann, cofounder and CEO of Current Health, explained, "The longer we go before a 'post-pandemic health care,' the more deeply integrated remote and home-based care will become."
Federal legislative efforts in the U.S. continue to point to a rise in home-based care as well. If signed into law, the Choose Home Care Act of 2021, would expand the existing home health benefit under Medicare and allow in-home care providers in certain cases to receive reimbursement for services such as personal care, remote monitoring, meal support, and more. As of this writing, the bill is in the hands of the Senate Finance Committee.
The Acute Hospital Care at Home waiver program launched by the Centers for Medicare and Medicaid in 2020 has also given additional flexibility to eligible hospitals to provide some types of care in the home as well. Support for the continuation of this at-home care initiative was demonstrated last month when the bill, "Hospital Inpatient Services Modernization Act," was introduced in Congress to extend the waiver program another two years.
As the trend toward in-home care continues and studies show positive outcomes for participants, at-home care providers should be poised to take advantage of this movement.
Rosemark Solutions for Home Care
As a top provider of home care management solutions, Rosemark is here to help streamline your company's business operations with customized tools that enable your business to effectively manage care in the home.
Manage client care on-site with our Rosemark Caregiver Mobile App.
Verify the time and location of care provided in real time with Rosemark's electronic visit verification (EVV) tools.
Simplify business processes like billing, payroll, caregiver scheduling, data management, and more.
Contact our home care software specialists any time to schedule a free, live consultation, custom-tailored to your agency's particular business model and needs, or call us at 734-985-2984 with any questions.