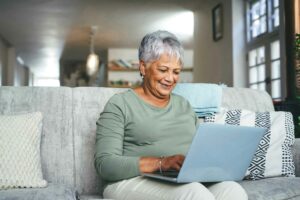 A high-quality home care website is, of course, a vital part of your business and marketing plan. A well-thought-out navigation, eye-catching images, and a compelling message that highlights your brand are all hallmarks of a high-quality site. These features help attract visitors to your site, keep them coming back for more information, and ultimately help convert visitors to clients. However, when your company's target audience is older adults, "high-quality" takes on a slightly different meaning.
Often, those who are searching for in-home care services are the adult children or other family members of aging loved ones. Many adult children of senior individuals are seniors themselves. Additionally, more and more older adults are searching for the care they or their spouses need. For these individuals, it is important for a website to meet certain criteria in order for them to engage with the information.
How Can I Optimize My Website for Seniors?
Regardless of the quality of your website, if it isn't optimized for older adults, you may be missing out on a key demographic of potential clients. The following steps can help you ensure that your website is optimized for older adults:
Ensure that font size can be increased. Aging eyes often find reading online challenging. For that reason, any website that is targeting senior clients should use at minimum a 12-point font. Your website should also have an option for enlarging text for improved readability.
Provide a text-to-speech function. To further enhance readability for those with vision impairment, a speech function that allows users to hear the text on your website spoken aloud can be helpful.
Cut down on wordiness. Long paragraphs of text can intimidate most users, but especially older visitors with poor eyesight. On each page of your website, make sure that text is broken down into short, scannable sections using clear headings and subheadings to make content easier to find and read.
Use high-contrast colors. Certain colors may look lovely together in your logo, but trying to read a yellow font on an orange background is nearly impossible. High contrast colors, like traditional black text on a white background, is much easier on the eyes, helps to delineate where links are, and makes the page overall more appealing to look at.
Make navigation clear. Too often, trying to figure out where to go on a website can be frustrating and if it is frustrating enough, visitors will quickly click away. Make sure your site's navigation is as clear and intuitive as it can be by using clear instructions on what to do or where to go next. Confirm that all 'Back to previous page' and 'Help' buttons are clearly displayed, and provide a site map to help visitors to find their way around your website.
Make it mobile-friendly. Seniors are rapidly becoming more tech-savvy, and most have smartphones and other devices today. According to a recent study, more than 83% of people aged 50- 64 and 61% of people 65 and over overuse smartphones. Because so many people use mobile devices on a daily basis to shop for products and services, your website should be optimized to be easily viewable on smaller screens. In fact, a modern website for home care clients should be built mobile-first, then adapted for desktop viewing.
Make it clickable. Including links throughout the text of your website is a good SEO practice, but it also helps visitors move throughout your site and find the information that they want. Ensure that clickable links are easy to find by using contrasting colors and also confirm that all of your links and buttons are accessible with just one click of the mouse, since double clicking is no longer commonly used and can be more difficult for people with arthritis.
When designing and developing a website for a home care business, choosing a web developer with experience in the senior care market is key to ensuring that your website is attractive and accessible to your core audience. If you are just starting a new home care business or if your website hasn't been updated in a while, consider consulting with a senior care marketing expert who can recommend and implement specific ideas to make sure your website is as effective as possible.