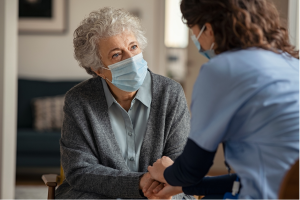 One of the trends we have seen since the beginning of the pandemic is an increase in the demand for home care services. The government, health care systems, and families have found that home care offers a safe and viable alternative to both hospital stays and long-term care facility placements, and both home health care and private duty agencies all across the country have reported an increased number of inquiries and new clients as home care gains support.
At the end of 2020, the U.S. Centers for Medicare & Medicaid Services (CMS) began to approve programs in its "Acute Hospital Care at Home" initiative, which is designed to provide hospitals with new flexibility to treat certain patients from home. Additionally, earlier in the fall, CMS recognized the increased demand for home care services and announced the availability of $165 million in supplemental funding for states currently operating Money Follow the Person (MFP) demonstration programs. These programs help make the transition back to the home easier and more straightforward for certain Medicaid users, including seniors. While CMS recognizes the important role of long-term care facilities and the need for them in the continuum of care, the organization seeks to ensure adults and seniors have the option to stay in the familiarity of their homes and communities, if they desire.
Established in 2005, the MFP demonstration has helped more than 101,000 people receive care in their homes. The goal of the new CMS investment is to help states transition more individuals to home care, a move that has been praised by many in the home care industry, as they recognize that there is are significant short- and long-term cost savings. According to a recent internal study sponsored by Bayada, New Jersey alone has the potential to save approximately $30,000 per person annually if more care is provided at home versus in a facility-based setting. Long-term, this savings would be significant as the senior population is projected to grow to nearly 90 million people by 2050.
While MFP has been shown to save costs and ensure greater access to high-quality, patient-centric care for vulnerable populations, the program has declined in recent years. The 33 states that are currently operating MFP-funded transition programs will be eligible to access the newly-announced funding from CMS, and can receive up to $5 million in supplemental funding.
States can use the supplemental funding to expand the capacity for home- and community-based care, as well as to increase the home care workforce – through recruitment efforts, training, ongoing education, technical assistance and quality improvement activities.
For home care agencies that serve Medicaid clients, this new funding means that there is the opportunity for growth, with the expectation that more people who are currently utilizing facility-based care will be looking to transfer to a home-based setting. To prepare for this, it's important that your home care agency is prepared at every level – not just for new clients, but for an increase in care staff as well.
Since 2002, Rosemark has been helping home care agencies plan for growth and achieve revenue goals. As tech pioneers who grew up in healthcare logistics, we are the first company to design operational software for non-medical home care agencies. Drawing upon our industry experience, our intuitive and cost-effective caregiver agency software system helps agency owners:
Take command of client care
Recruit and retain a highly-qualified workforce
Master compliance
Monitor key performance indicators
Report outcomes
In addition, our powerful yet simple caregiver agency software is fully customizable and scalable, making it an ideal choice for startups or for established agencies. Coupled with our legendary customer care, we will be your hands-on partners every step of the way, ensuring you and your staff are trained, supported and getting the most out of the Rosemark system.
To learn more about how Rosemark can help you grow your home care agency and to learn more about why we've been called the best private duty caregiver agency software, reach out to us today at (734) 662-3537 to schedule a free product demo.