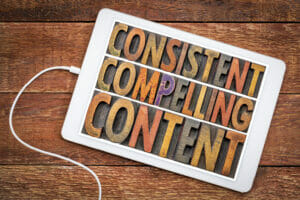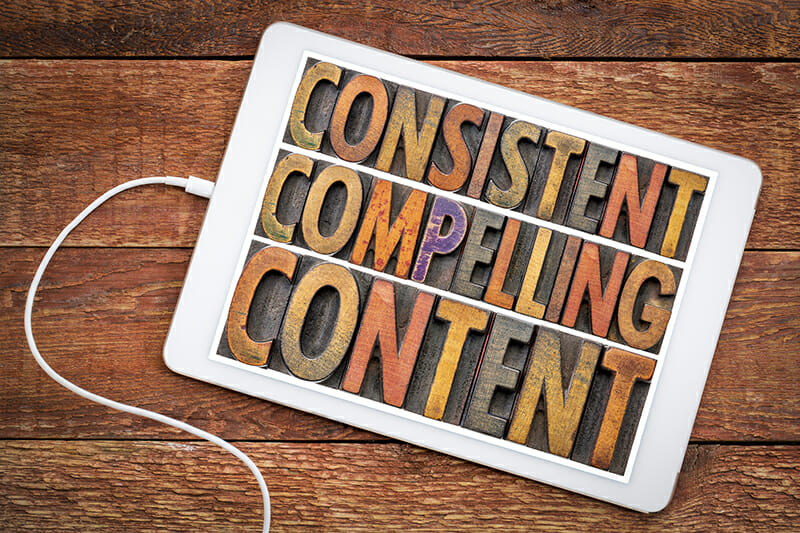 Compelling content is at the core of effective home care marketing. If you're current content is just so-so and you find yourself questioning whether it actually compels your audience to act, it's time to overhaul your content marketing strategy. Once you earn the attention of an audience, it's important to capitalize on that opportunity to represent your brand, showcase your expertise, and build trust as a home care provider.
The Role of Content Marketing in Home Care
Content marketing is a strategic approach that focuses on developing and sharing helpful, relevant, and consistent content to draw in a clearly defined target audience. The goal of content marketing is to compel both current and potential clients and referrers to take an action – call your agency, set up an in-home consultation, share your information with others, etc.
Bear in mind that the content you create has to have intrinsic value to your target market. Content marketing isn't just a matter of telling people about your agency and the services you provide, or sharing a recipe; it needs to offer real value. And what is of value to one audience isn't necessarily valuable to another.
For instance, someone seeking an interior decorator has very different needs and expectations for content than someone with an elderly parent. The interior decorator consumer wants to know about window treatments, furniture placement, how to maximize a small space, etc. The adult child of an aging parent needs information on preventing falls, warning signs that care is needed, how to balance work and home commitments, etc. In other words, your content has to have specific meaning and relevancy for those you are trying to reach.
Many times, people think of content marketing as being outside the realm of traditional marketing. Yet high-quality content is the core of all types of marketing and sales efforts:
Website: A well designed and developed home care website showcases uniquely branded content that is written specifically for the target audience. Home care websites that are SEO-savvy also include a blog with regularly posted educational content that is valuable to those seeking help with meeting the care needs of a senior.
Social media: Social media platforms are a great place to share helpful content so that targeted consumers share and act on your agency's information. Promoting the right content in social media can be highly effective in attracting consumers with an immediate need to contact you about your home care services.
SEO: Search engines reward companies that consistently share helpful, relevant content to the target audience the company serves. However, posting content that isn't relevant or helpful can have the opposite effect.
PPC: A successful PPC campaign needs to include content that consumers find instantly compelling and that is consistent with your website.
Print marketing: Brochures, flyers, rack cards, ads, press releases, etc. all need to address a real need or answer a compelling question that your target consumer has in order to draw in inquiries.
Recruitment: The best caregiver recruitment ads describe the benefits to potential care staff, and the value in making a difference in the life of another, in addition to simply listing what the job entails.
Sales: Successful sales strategies are based on understanding and meeting the needs of referrers and consumers in unique ways that create value and interest.
Additionally, reviews and testimonials from clients, family members, and referrers are extremely compelling content. A survey conducted by Bright Local revealed that 86% of consumers read reviews for local businesses, and they are reading an average of 10 online reviews before they gain trust in a company. Your target audience wants to hear about the experiences of others who have used your services, so be sure to include reviews and testimonials on your website, in social media, on print material, etc.
Consistent creation of compelling content takes time and expertise, so it's easy to see why many businesses engage the assistance of professional marketing firms for help. Marketing home care is such a unique niche market; the best way to obtain the best results is by partnering with a marketing agency with specific expertise in aging care, so your content zeros in on the particular needs of those seeking a care solution.
About Amy Selle
Amy Selle is the Vice President of corecubed, a care provider marketing company that uses the best home care sales and marketing talent to promote the best care companies. Amy acts as a strategic marketing partner to corecubed clients, helping them achieve results in an increasingly dynamic marketplace. Need help with creating and sharing compelling content? Contact the aging care marketing experts at corecubed. Phone: 800.370.6580 Email: info@corecubed.com Visit: corecubed.com