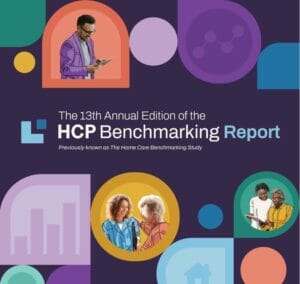 The average business owner makes 35,000 decisions a day. Feeling overwhelmed? We've broken it down to the top 4 decisions you should be making for your agency, with the data to prove it. 
Today, we're sharing a guest post from Amanda Sternklar, Managing Editor at Home Care Pulse. In addition to the annual HCP Benchmarking Report, Home Care Pulse is a leader in experience management, online training, and review management for the home care industry. Through its Care Intelligence Platform, HCP empowers home care providers to attract and retain caregivers even in a historic caregiver shortage. Home Care Pulse also administers the annual Best of Home Care awards to agencies that achieve best-in-class client and caregiver satisfaction scores. 
What type of benefits should I be offering my caregivers? How many office staff members should I hire? Where do I start when tracking hospital readmissions? How do I combat the caregiver shortage?
If you've found yourself asking any of these questions, the answer to all your problems is the same: data. Without it, the answers to these business decisions could make or break your agency's success—something you don't want to leave to chance.
Carefully chosen from the 2022 HCP Benchmarking Report, these 4 home care trends will help agency owners like you prioritize your to-do list and turn your daily actions into data-driven business decisions.
1. How to Protect Your Business
From COVID-19 to a turbulent job market, agency owners navigated alarming threats to their businesses in 2021. Looking to the future, there are more challenges coming to the home care industry in the next year. 
Choosing where to focus your efforts to best protect your business in 2022? Over 80% of providers listed caregiver shortages as a top threat to their agency. That makes sense, considering 97.8% of agencies say the caregiver shortage negatively impacted their business in 2021. 85.3% of agencies even had to turn away cases due to lack of staffing.
While industry leaders are working on strategies to combat the caregiver shortage, it doesn't seem like it will end any time soon. The problem is exacerbated by the high caregiver turnover rate, which was the second top threat identified by providers.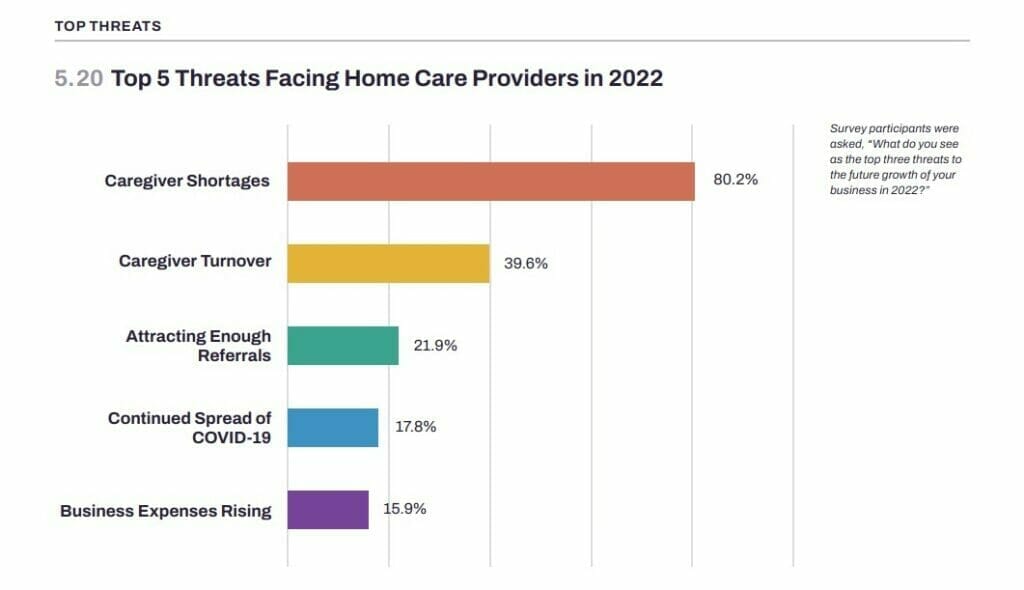 The data-driven decision: It's clear that attracting and retaining top talent is already top of mind for agency owners—as it should be. The key to recruiting the best long-term caregivers (and keeping them engaged in your agency) is your employer brand.
Word of mouth has the lowest turnover rate of any recruitment source at only 23.4% and the lowest caregiver acquisition cost of just $167. By investing in what others are saying about you (and therefore how potential employees view working for you), you'll be able to become the agency caregivers compete to work for. 
There's no quick fix to improve your employer brand; the best first step is to survey your employees to identify your blind spots, strengths, and weaknesses. Use all three to strengthen your caregiver experience and avoid caregiver shortages for good.
2. How to Retain Long-Term Caregivers and Office Staff
On that note, if you're looking to retain both caregivers and office staff, benefits are no longer a nice perk—they are a requirement. 88.9% of agencies are offering benefits to caregivers, and 88.2% provide benefits to office staff. 
The top benefit agencies provide for office staff is paid time off. For caregivers, it's travel reimbursement, nearly tied with PTO. Medical, vision, and dental insurance and retirement benefits are also near the top of the list for caregivers and office staff.

The data-driven decision: Providing benefits doesn't have to break the bank. Even if you're just starting out, you can provide lower-cost benefits like voluntary insurance or daily or weekly pay (which is consistently at the top of caregivers' wish lists). 
In addition, offering education reimbursement like 17.8% of agencies did in 2021 can net your agency more skilled caregivers who stay with you for the long term.
3. When to Add a New Office Staff Position
Wondering when it's time to hire a new non-caregiver employee? It's a delicate balance to ensure you have enough revenue to support another position without waiting too long and burning out your current staff. 
Find out how you compare to the rest of the industry by dividing your total weekly billable hours by the number of non-caregiver staff you employ. The average agency had 205 weekly billable hours for every non-caregiver employee in 2021. 

The data-driven decision: It's critical to hire proactively, rather than reactively. 
Don't wait until you're already feeling the strain to hire a new employee. The best way to ensure you're hiring at the right time is to plan when you'll hire each staff position you'd eventually like to have in your agency. 
How many weekly billable hours would you like to have before you hire a recruiter? What monthly revenue target would you like to hit before adding your first sales or marketing employee? Set goals and review your numbers monthly to know when to add your newest team member.
4. How to Attract New Referral Partners
The third biggest challenge agency owners say they're facing in 2022? Attracting enough referrals. The best way to create and strengthen referral relationships is proving the value of the care you provide and showing they can trust you to improve health outcomes for your clients.
So why are only 21.8% of providers tracking hospital readmission rates? Proving that your services lower the risk of a client reentering the hospital shows your agency can be a trusted partner in post-acute care.

The data-driven decision: Go one step further than tracking your readmission rates: communicate with your referral sources to build strong, profitable partnerships. 
Is a client they referred still using your services 6 months later? Give the discharge planner or social worker an update on how you've been able to help their referral. Tell them how your readmission rate compares to local competitors (and the national benchmark, which was 3.0% in 2021).
Build lasting relationships by communicating your results to become a provider that discharge teams know they can trust.
"Without the data, you're just another person with an opinion."
This quote from W. Edwards Deming holds true in home care, especially in 2022. Identifying key metrics, tracking your results, and, perhaps most importantly, measuring your performance against your peers is the best way to make informed decisions that really move the needle on your business' success.
Get the data you need to make the most important decisions for your business in the 2022 HCP Benchmarking Report. With all of the insights you need to stay ahead of our rapidly changing industry, your agency will be at the forefront of these trends in time for next year's Report.