By Miriam Allred, Project manager at Home Care Pulse (HCP_
Better data leads to better decisions. The Spring Edition of the 2019 HCP Benchmarking Study, released in May, focused on finance data and recruitment/retention data to help agencies make more informed decisions in these areas. Data points including caregiver turnover rates, profit margins, pay rates, and referral strategies provided home care agency owners with industry-wide trends to help them see where they stand.
Year after year, home care agencies continue to struggle with caregiver turnover rates. 2019 marks a record high for caregiver turnover rates, reaching an alarming 82% average turnover. In our  3 Key Takeaways from the Spring Edition, we focused heavily on caregiver turnover, caregiver scheduling, and client communication.
For the first time ever, Home Care Pulse has released a second edition of the HCP Benchmarking Study in the same year. This Fall Edition includes the Sales and Marketing and Operations sections, as well as a new Technology section and an updated Recruitment/Retention section. Agencies across the nation continue to struggle with the same problems, but the Fall Edition of the 2019 HCP Benchmarking Study tackles these issues by pointing out specific tactics and specialized tools that agencies need to start using now.
Here are three data points from our 2019 Fall Edition to help your agency focus on a growth mindset and turn data into action: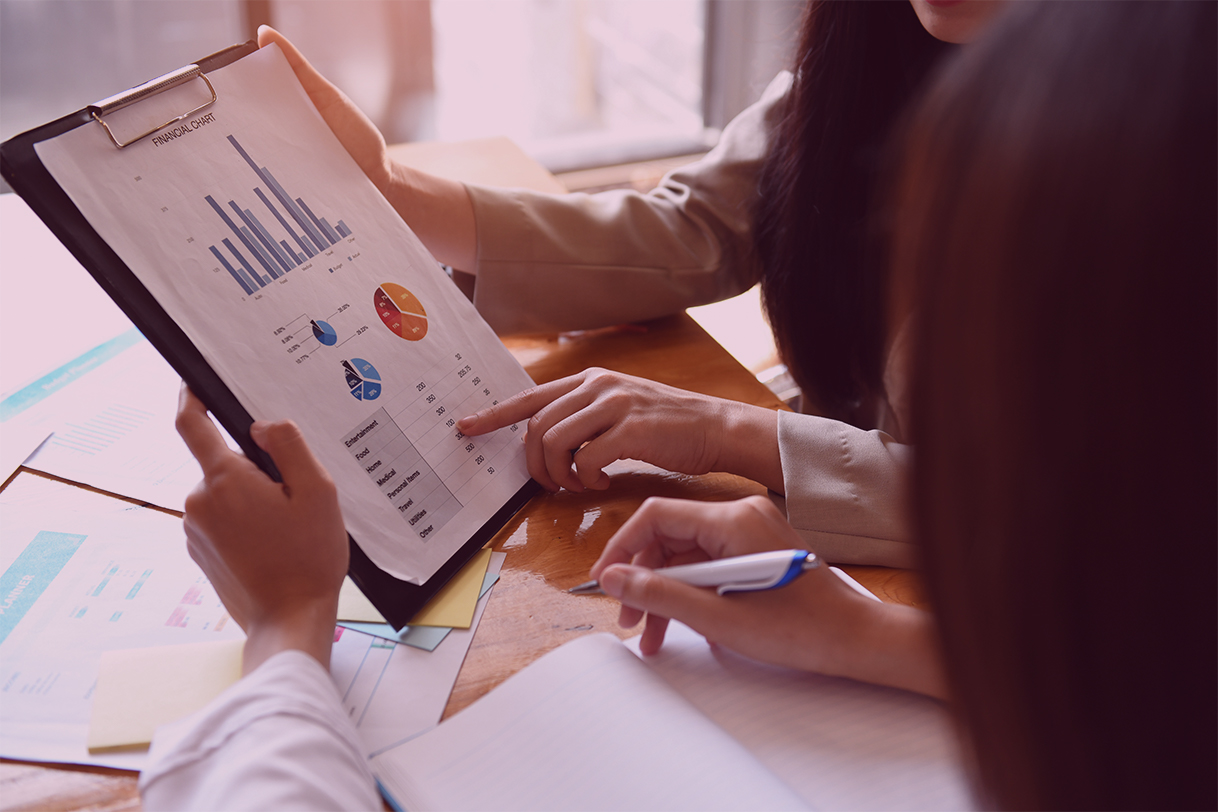 Specialty Care
Need help differentiating your agency? Offer more specialized care programs. 
Over 85% of agencies offer specialized care for Dementia and Alzheimer's, but less than 30% offer specialized care such as private duty nursing, congestive heart failure, chronic obstructive pulmonary disease, diabetes care, geriatric care management, and behavioral health care.
Offering specialty care requires additional resources, certifications, and training. Initially, it can be costly to invest in the required assets to offer specialty care, but it will set your agency apart and bring in new clients and caregivers. Agencies that offer specialized care are also likely to see an increase in client retention; because it can be difficult to find a good specialty care provider, clients in need of specialized care whose needs are being met are very unlikely to discontinue services or move on to a competitor. It's also important to realize that clients taking advantage of a specialty program are usually willing to pay higher prices and are less price-sensitive overall.
Offering specialized services will increase the opportunity to receive referrals from doctors, nurses, and healthcare providers in your area. Healthcare professionals serve senior patients with a wide variety of needs and will be looking for agencies that will be eligible to meet the needs of each individual patient.
A little research could go a long way to see what specialized care other agencies are offering in your area. Find opportunities to differentiate your agency by adding specialized care services that your local competitors aren't offering.
Do you know what specialized services your competitors offer?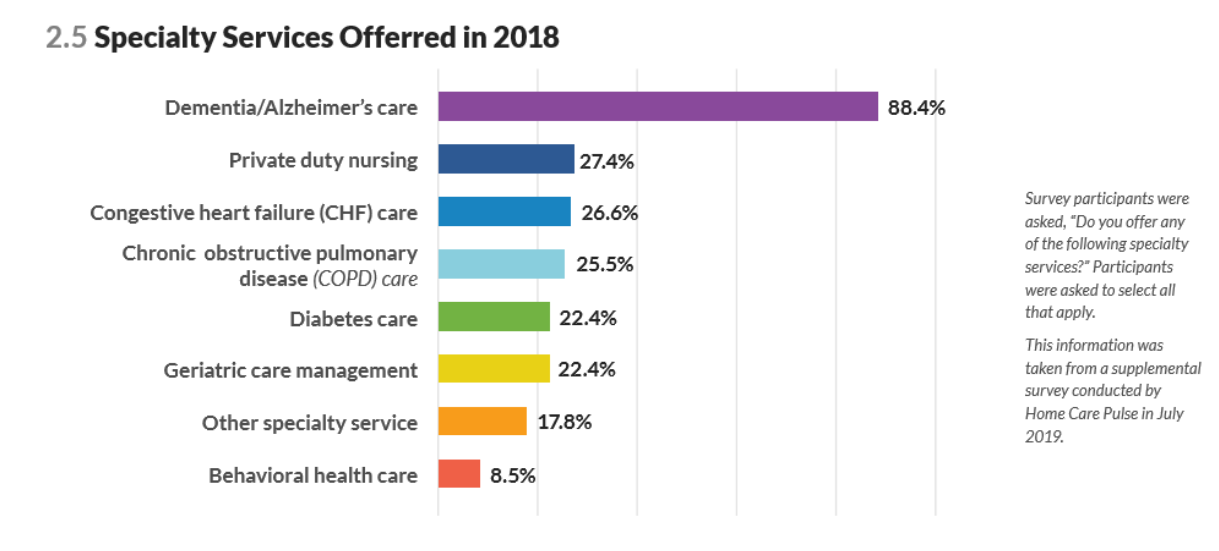 New Technology
CRMs ranked #1 for Top Rated Impactful Technologies for the Future of home care in the HCP Benchmarking Study.
For those of you wondering what a CRM is, we're glad you asked. CRM stands for Customer Relationship Management. CRMs function as a digital tool to help agencies retain customers inside a database where you can track all your sales and marketing efforts.  
Is your home care agency finding it difficult to keep all your client and referral activity organized and accessible? CRM systems present a solution to help agencies keep track of their client sales and marketing inside one platform. Most CRMs include tools to allow your agency to call, email, and text your clients from the platform. CRMs are different from traditional scheduling software programs in that the main purpose of a CRM is to help track sales and marketing communications, rather than client visits and staffing operations. HubSpot, Isoratec (healthcare-specific), and Salesforce are CRMs that professionals recommend. Check out our Home Care Agency Owner's Guide to CRM to learn more.
CRMs reduce the time and money you spend on marketing and sales by helping your leads progress more efficiently. With real-time data, you'll know which sources and channels are delivering the best results and you can capture and close more leads with a prompt follow-up.
Does your agency need to add a CRM to your tool belt?   
Sales/Marketing
50% of agencies don't employ a full-time sales rep, but those that do average over $1 million more in annual revenue. 
While this is a correlation rather than a causation, it does strongly suggest that bringing on a full-time sales rep is a key step in raising your revenue.
Home care agency owners across the country avoid the daunting questions of when to bring on a sales rep. No two agencies are alike. The Fall Edition of the Study showed that six of the top 10 referral sources are healthcare professionals—a strong case that if you don't currently employ a dedicated rep to focus on these relationships, you should evaluate whether it's time to add one.
In the Fall Edition of the Study, we can see that agencies generating $1.6M+ in revenue begin to bring on at least 1 sales rep, if not more. A sales rep plays a critical role in fostering relationships with the community, local healthcare providers, and other referral partners.
There's a good chance you already have a sales rep. If you don't, take time to consider if it's time for you to start thinking about hiring one.
Taking on the Challenge
Adapting a business can take time and resources but give thought to these data points and find ways to work these tools and tactics into your agency. Focusing on specialty care, adding a CRM to your tool belt, and getting your agency into a position to bring on a sales rep could be fundamental changes your agency needs. Which of these tools could most benefit your agency?
About the Author
Miriam Allred is a project manager at Home Care Pulse and comes from a background in traditional and digital marketing. Previously, she worked at a radio broadcasting group, social media ad agency, and as a freelance web designer/graphic designer. Miriam has helped local businesses achieve great success through marketing strategy and execution. She's explored and added value to many different industries, but now finds herself passionate and motivated to help the home care industry grow.