Improve Caregiver Satisfaction and Reduce Caregiver Turnover with the Right Scheduling and Communications Tools for Your Home Care Agency
Earlier this summer we shared a guest blog post by Connor Kunz of industry satisfaction management firm, Home Care Pulse, regarding the latest findings from the spring edition of the firm's annual benchmarking study. In that post, Kunz shared that caregiver retention continues to be a major issue for the industry and is getting worse with turnover rates rising by 15 percent to an all-time high of 82 percent.
The study also showed that work schedules are a major source of dissatisfaction for caregivers. In fact, issues surrounding work schedules ranked as the number one complaint from caregivers who were surveyed as part of the study, placing even ahead of pay rates. Caregivers stated that not having a consistent schedule week to week was a big problem and not being able to get enough hours was also an issue. This begs the question: How can I use software to reduce caregiver turnover, not create it?
Well thought out tools
For us, seeing this new data just underscored something we already know and see in our customers' experiences every day – home care agencies absolutely need great tools and systems at their disposal to run successful businesses. In this case we see an opportunity for home care agencies to improve caregiver satisfaction and turnover by enhancing their scheduling and communications processes with innovative software features and tools.
So how does the Rosemark home care scheduling software system handle scheduling and communication and how can our solutions help your home care business improve caregiver retention and satisfaction? Let's take a look.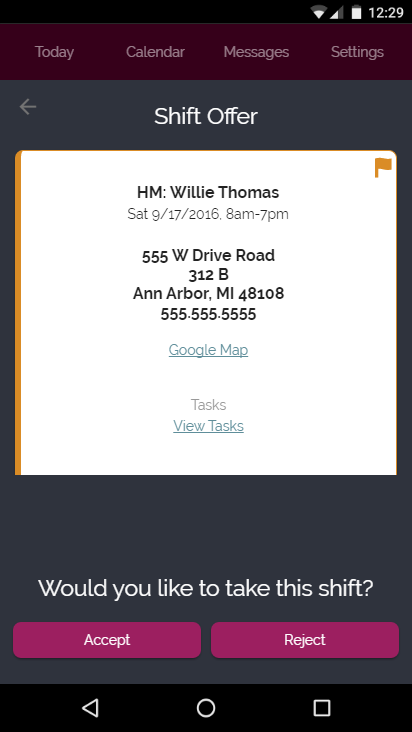 The Rosemark System's Scheduling Tools – Designed for Home Care Agencies' Needs 
We designed Rosemark's scheduling tools specifically for home care agencies and the industry's unique needs. We know that for home care agencies scheduling is an on-going, always fluid activity and you need to be able to manage caregiver scheduling with ease and effectiveness. With that in mind we provide these features and tools to help reduce caregiver turnover:
Flexible Scheduling Tools – Our system allows you to easily create daily, weekly, bi-weekly, or monthly scheduling patterns that are color-coded for at-a-glance understanding and ease of use. 
Caregiver-Client Matching – Rosemark provides a scheduling feature that allows you to quickly match caregivers to clients based on client needs and caregiver qualifications and availability.
Caregiver Performance Records – Automated features in our scheduling system also track things like no shows and late arrivals so you can have easy access to a record of caregiver activity – perfect for performance reviews and rewards/recognition activities.
Task Recording – Rosemark's Caregiver Mobile App can be set up to require caregivers to record ADL's and other tasks necessary for proper client care. 
Rosemark's Communications Suite: Shift Offers, Electronic Visit Verification (EVV), and More
Once your schedule is created, Rosemark then provides multiple communications tools to stay in touch with caregivers in the field as shift opportunities come up or schedule changes arise. In addition to communication, our mobile app and telephony tools also provide your agency with EVV capability and satisfy the 21st Century CURES Act requirements for home care agencies performing Medicaid services.
Rosemark's Caregiver Mobile App – This app provides a full-featured, easy-to-use channel of communication between your home office and your caregivers in the field and it can be accessed via Android or iOS smartphone or other mobile device anywhere cellular service is available. Through the app your home office can send shift opening notifications to caregivers in real-time and caregivers can then easily accept or decline offers immediately by clicking a button. This feature allows you to fill shifts quickly and provides your caregivers with opportunities to take on extra work as their schedules allow.
On the other hand, if caregivers need to cancel an upcoming shift they're scheduled for they can simply communicate a message to your office staff through the app at the close of a shift and your staff will be notified in real-time of the need for a schedule change.
Rosemark's Email & Text Tools – Our system also allows for caregiver communication via email or text messaging which is a great option for caregivers who are not yet using our mobile app. Messages including information about shift offers, agency announcements, and other topics can be sent quickly and in real-time to either individuals or groups.  
In our nearly three decades serving the home care industry, we've seen a lot of trends and changes. We know that to stay competitive home care agencies need to be agile in responding to the industry's challenges and this has never been more true than it is today. If you want more information about how our home care scheduling software and solutions can benefit your business, get a simple price estimate here or contact us today to see a full demo. We would love to connect with you.