Today we are happy to announce that in the near future, we will be launching the new Rosemark Caregiver Mobile App to complement our business management software for home care agencies.
Our new mobile app will provide a full-featured, easy-to-use channel of communication between our customers' home care agencies and their caregivers in the field. At Shoshana Technologies our goal has always been to make our customers' lives easier by providing tools that streamline, automate, and optimize their business management efforts and the launch of our Rosemark Caregiver Mobile app is just the latest example of these efforts.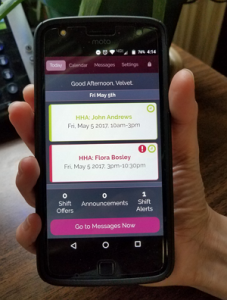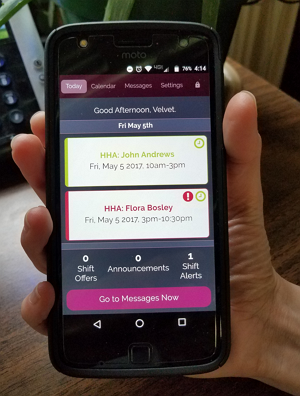 With our new app, communication between our customers' home care agencies and their caregivers can be accomplished using just this one easy-to-use app instead of multiple tools, and communication will be more streamlined and efficient – resulting in savings of time, cost, and effort.
The Rosemark Caregiver Mobile app will be available to customers starting in late June this year and it will provide a variety of features and capabilities including:
Shift Details: Caregivers can view their scheduled shifts and details about those shifts – including client address/phone number and client condition.
Shift Offers: Caregivers can view shift offers from the home office and will be able to accept or refuse those offers.
Clock-in/out: Clock-in/clock-out capability with GPS-enabled location verification.
Clock-in/out Alerts: Alerts to notify caregivers of late or missed clock-in/clock-out activity for scheduled shifts.
Care Plan Checklist: Caregivers will be able to fill out and sign a client's care plan checklist at the completion of a shift, and also have the client provide their signature on the checklist as verification as well.
Agency Announcements: Caregivers may view announcements, reminders, and other communication from agency office staff.
Voice Messaging: Caregivers may leave voice messages for their home office staff regarding things like client care, work schedules, and other pertinent issues.
For more information about the new Rosemark Caregiver Mobile app and how it can help simplify and improve communications with your home care agency's caregivers, contact us at 734-662-3537 or info@shoshana.com