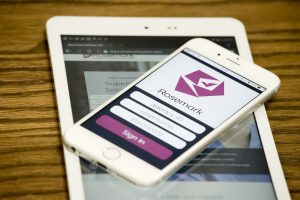 As of this month, we are happy to be launching offline mode capability for the Rosemark Caregiver Mobile App (CMA) of our home care management software. This feature is available to all app users at no cost and can be easily activated just by contacting Rosemark's customer care team. 
Offline Mode for Electronic Visit Verification (EVV)
For those who aren't familiar with it, offline mode is a feature that will allow caregivers using the Rosemark CMA the ability to clock in/out and record tasks in the app when cell service and/or an internet connection is not available. 
Operating in offline mode allows for the capture of information as it is happening in real-time. Once a connection or cell service is available again and the caregiver logs in to the app, the information is then automatically synced to the Rosemark System to ensure accurate timekeeping and care plan records for the caregiver and client.
With offline mode, there is no need for caregivers to track information on paper or to seek out a landline to utilize a telephony service. They can follow the processes they normally follow utilizing the app tool they are familiar with. 
Offline Mode for EVV and Medicaid Reimbursement
For home care agencies billing Medicaid for services timekeeping via an EVV tool is now required by the 21st Century Cures Act. Offline mode capability for the Rosemark CMA now helps to ensure that the necessary information for Medicaid reporting purposes can still be captured via the app even when care is provided in a location where cell and/or internet service is either not available or is unstable.  
States Requiring Offline Mode
Some states, like Missouri, are also requiring that care providers that provide Medicaid services must utilize an EVV tool that is capable of operating in offline mode when necessary. 
For information about specific state requirements check with the administrator of your state's local EVV program. 
Rosemark's Caregiver Mobile App (CMA)
Our Rosemark CMA is suitable for agencies required to use EVV for Medicaid reporting and billing as well as for non-Medicaid agencies that simply want to enable more seamless communication and information flow between the home office and their caregivers in the field.
The app provides caregivers with access to information and tools needed to manage their job responsibilities and currently verifies and records more than a million caregiver shifts each month for home care businesses around the country. 
Learn More About Offline Mode and Rosemark's EVV Tools
Interested in getting more information about offline mode capability and the Rosemark Caregiver Mobile App? Call 734-662-3537 to speak with a Rosemark team member or fill out this form to schedule a conversation and educational demo of these tools. We look forward to speaking with you!