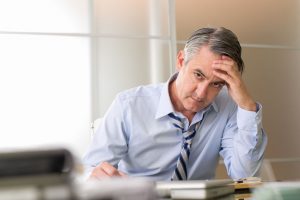 Optimize Your Sales and Client Retention Efforts with Rosemark
It's so great when you can be proud of providing the best care to an elderly client. But what happens if you lose a client or a potential client. It all goes to your bottom line. It can be really frustrating. Maybe, as an owner, you don't have visibility on that because your staff is not keeping track. Perhaps you are an office manager and your bonus is based on closing a client to win their business but you really don't have clear visibility as to what is occurring over time. This makes it hard for you to make positive changes.
When a person calls to inquire about care but they never became your client or they were your client but then they left for some reason. If someone asked you or someone on your team the reason that a client did not come on board or why a client is no longer your customer, could you tell them?
There are so many reasons for these events. They may have been a very good match from your point of view but they still did not sign up for care. So what does "not a good match" mean?
Did the competition get them? If so, why?
Did your client pass away? This isn't something that you can control but it counts toward the big picture.
Was a potential client not eligible for your services? Why?
Did you try and reach out to them but they

failed to continue communicating with you

after seeming like a good match?
Were they outside of the area that you can cover with your caregivers force?
Were they placed in a facility? What were the circumstances for the move?
You didn't have the right caregiver for the job or maybe no caregiver to cover that client? What were the circumstances?
Perhaps they needed a certain type of service or care arrangement that you could not accommodate? What did they need?
Rosemark is one of the best private duty home care software systems available where you can easily close out lost client inquiries and add clear reasons for the loss so that you can see, over time, why and how you might be losing that business. Then the data becomes extremely powerful to help you:
assess whether or not your staff is effective at signing up potential clients
to generate ideas for new or different service offerings.
be clear about where to focus your marketing dollars budget.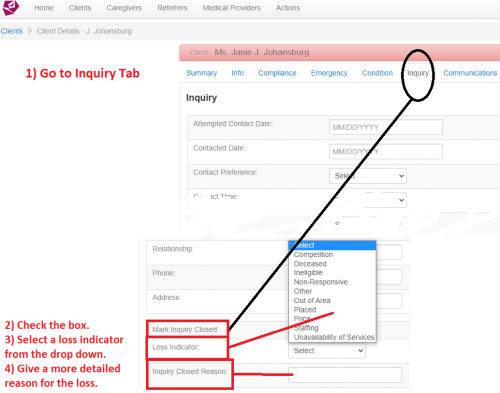 See how easy it is to enter all of the necessary facts to help you draw the right conclusions? Running reports with a home care business software system like Rosemark allows you to slice and dice your data to gain new insights that will allow you to grow your client base and set you on the path toward improving your closed/ won rate.
Contact us anytime to learn more about why people consider Rosemark to be the best private duty home care software system around.