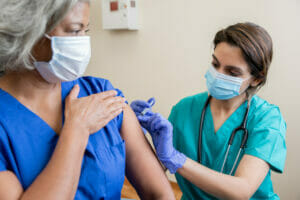 When it comes to Covid-19 and information surrounding the latest developments, it can feel hard to keep up. Given the Supreme Court's recent ruling related to vaccine mandates and the potential impact to employers and the home care industry, we wanted to share a brief recap of the latest news.
Supreme Court Decision
So, what do we know about the vaccine mandates so far? On January 13, 2022, the Supreme Court blocked the OSHA mandate that enforced a vaccine-or-testing model for large employers. This means that, at the time this article was posted, OSHA cannot mandate vaccine compliance for businesses. In a statement following the ruling, a spokesperson of the organization said that OSHA still urges all employers to require workers to get vaccinated or tested weekly to most effectively fight COVID in the workplace.
In the same ruling, the Supreme Court permitted the Centers for Medicare & Medicaid Services (CMS) to enforce its rule requiring many Medicare- and Medicaid-certified providers and suppliers to require their staff to receive the COVID-19 vaccine.
Following the Supreme Court's decision, CMS released the following statement: "As a result of today's decision, health care providers subject to the Omnibus Health Care Staff Vaccination rule in the 24 states (Alabama, Alaska, Arizona, Arkansas, Georgia, Idaho, Indiana, Iowa, Kansas, Kentucky, Louisiana, Mississippi, Missouri, Montana, Nebraska, New Hampshire, North Dakota, Ohio, Oklahoma, South Carolina, South Dakota, Utah, West Virginia, and Wyoming) covered by this decision will now need to establish plans and procedures to ensure their staff are vaccinated and to have their employees receive at least the first dose of a COVID-19 vaccine."
For further information regarding your state's deadlines and the most up to date information, see the CMS website.
Who Does the CMS Mandate Apply to?
According to the CMS, the health care staff vaccination requirement applies to the following Medicare- and Medicaid-certified provider and supplier types:
Ambulatory Surgery Centers
Community Mental Health Centers
Comprehensive Outpatient Rehabilitation Facilities
Critical Access Hospitals
End-Stage Renal Disease Facilities
Home Health Agencies
Home Infusion Therapy Suppliers
Hospices
Hospitals
Intermediate Care Facilities for Individuals with Intellectual Disabilities
Clinics
Rehabilitation Agencies
Public Health Agencies as Providers of Outpatient Physical Therapy and Speech-Language Pathology Services
Psychiatric Residential Treatment Facilities (PRTFs) Programs for All-Inclusive Care for the Elderly Organizations (PACE)
Rural Health Clinics/Medicare Federally Qualified Health Centers
Long-Term Care Facilities
Additionally, the vaccine requirement applies to all eligible health care staff working at almost all CMS-certified facilities that participate in the Medicare and Medicaid programs, regardless of clinical responsibility or patient contact. Please note that the mandate is for certified Medicare and Medicaid providers only and does not apply to Medicaid Waiver programs.
Staying Compliant in Changing Times
Changing rules and regulations can make it challenging to understand just how your business should operate and what compliance rules apply to you. Always have a legal representative review your agency's practices to ensure compliance with any rules and regulations your business may be subject to.
Learn More About Rosemark
At Rosemark, a trusted provider of home care business software solutions, we know that providing care during these difficult and ever-evolving times can take a toll. The last thing your agency needs to worry about is the quality and efficiency of your home care software! Fortunately, our Rosemark System makes it easy for agencies to deliver care, manage caregivers, process billing and payroll, and more. To learn more about our entire suite of cloud-based software tools, reach out to us today at (734) 436-2631. We'd love the opportunity to schedule a no-obligation demonstration and answer any questions you have about our industry-leading software solutions.