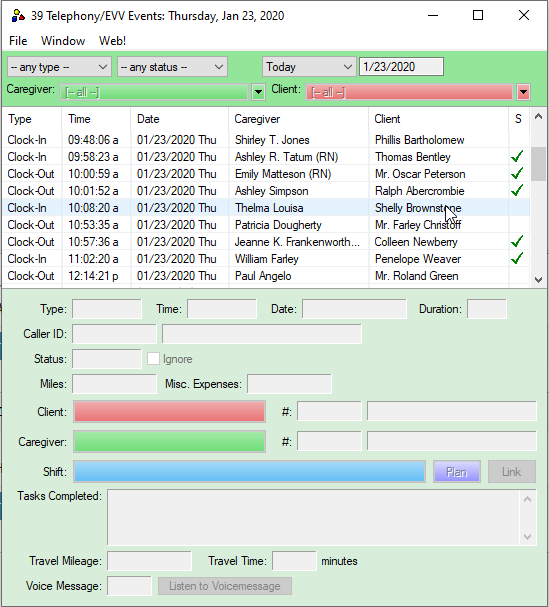 Timely Linking Loose EVV Events is a Best Practice!
The biggest problem for agencies is when the EVV events are addressed well after the fact. Letting them pile up for days, sometimes weeks. This is very problematic making the real story hard to uncover.
Here are some best practices around linking:
Reviewing, investigating the problem and recording the actual event is essential. Because the events happen in real time you know immediately what is happening in the field and can synchronize billing and payroll accordingly.
Leave the Telephony/EVV Events (Electronic Visit Verification) window open, (some people have a dedicated monitor for just this purpose). Find the events window in the Office Menu. (see benefits below)
Notice the events that are not linked (they will be missing a green check mark) (It will say "loose" in the web portal).
A missing green check mark or  indicates a loose clock in or out event. There are 2 reasons why this may occur:

1) The caregiver may late or early for their scheduled shift.
2) They are not at the location of the scheduled shift.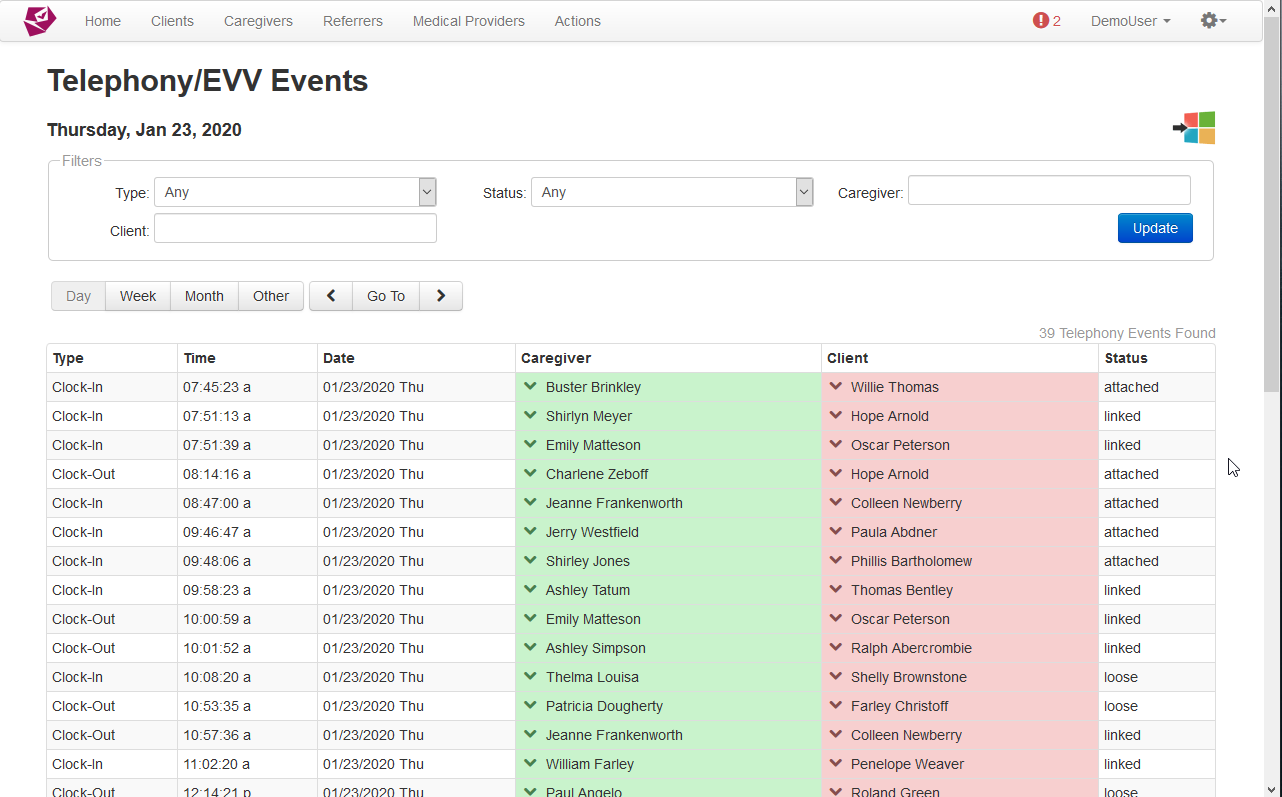 Problems Haphazard Practices Permit.
Delayed linking increases the possibility of error in payroll and billing. Over paying the caregiver and undercharging the client is common.
Bad caregiver behavior is hard to uncover and correct after the fact.
Problems with care can be missed causing you to be out of compliance.
Inconsistencies of data leaves you open to an audit nightmare (especially if your agency bills MCO's, LTCi…)
Benefits of Leaving the EVV window open:
Lets you see clock ins and clock outs as they happen.
Enables you to address problems in the field as they are happening.
You can see immediately if the caregivers are out of range of their shift.
Let's you make any necessary changes as they are happening.
Allows you to mark a caregiver as tardy for future reporting so no one forgets.
Then, automatically changes payroll and billing to reflect what really happened.
Gives you confidence in the accuracy of your data.
Getting your staff on board for these best practices will save you money and future headaches. We'll help you if you need to create a plan to get your staff on board. Contact Rosemark Systems to see how the Ohio EVV system and home care software can help, no matter what state your agency is in.