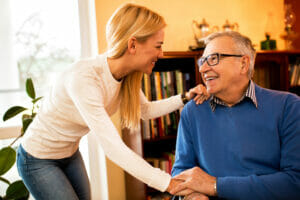 Finding and retaining top talent is an ongoing challenge for home care agency owners. Add to that a global pandemic that has driven the demand for home care through the roof, and it's easy to see how being fully staffed with a skilled and reliable caregiving pool is crucial to an agency's sustained growth.
Thankfully, the latest survey results from Home Care Pulse show stability in caregiver turnover rates, which rose slightly from 64.3% in 2019 to 65.2% in 2020 – something CEO Erik Madsen declares to be "a huge victory" for the home care industry. The key? Caregiver satisfaction. As Madsen explains, "In terms of caregiver satisfaction, employers did an excellent job during the COVID-19 period of reaching out, recognizing workers and communicating. They did everything they could to make that experience as [manageable as possible] for their employees."
Conversely, nursing homes and residential care facilities are struggling with caregiver retention. As of April 2021, employment had dropped 63,000 jobs from the end of 2020, with a total of more than 339,000 jobs lost since early 2020.
So, what steps can your agency take to ensure you are adequately staffed for the clients you're serving now, while preparing for future growth? Contact us online or call us today at (734) 336-2967 to learn about how we can help your home care agency retain caregivers.
How to Boost Caregiver Retention
Having a caregiver retention strategy is crucial. With as many as 80% of survey participants rating caregiver shortages as their top threat in 2021, with these shortages having either an extremely or very negative impact on their business.
Make sure your strategic plan includes:
Be accommodating. Many home care agencies tout "flexible schedules" as one of the benefits provided to employees; but how much flexibility is required to let caregivers know their life balance truly matters? It's impossible to accommodate every person's schedule, but to the extent possible, strive to allow caregivers to designate when and where they would like to work.
Expand training. Effective training is an investment you make in your caregivers, providing them with confidence in their roles, leading to a higher degree of satisfaction that carries over to the satisfaction of your clients. Solicit feedback from your caregivers on the value of the training you're currently providing, how it might be improved, and what topics they would like further training on. Training should be provided at least monthly, with incentives for all to attend such as paying for their time, providing a meal, entering the names of everyone who attends into a drawing for a prize, etc.
Recognize and reward. Make sure you're providing plenty of heartfelt appreciation, both verbally and through tangible perks such as pay raises and bonuses. Train your office staff to routinely encourage and motivate caregiving staff as well, as they may have more day-to-day contact with your caregiving team. Use your social media platforms and newsletter to share successes and recognize exceptional caregiving stories. Hold an annual banquet to reward your team for their hard work throughout the year. Think outside of the box and incorporate as many opportunities as possible to let your caregivers know how valuable they are.
We love partnering with home care agencies and helping them efficiently and effectively run and grow their businesses with our customized home care management software solutions. Our caregiver management solution can help you reward caregivers for meeting goals, providing outstanding service, reaching professional milestones, and more. You'll be able to easily track performance for individual caregivers, determine when certifications and licenses need to be renewed, and so much more.
Let Rosemark be part of your caregiver recruitment and retention strategy. Contact us at (734) 436-2631 for a free demo to learn more.