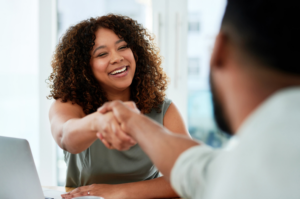 Recruiting and retaining the best caregivers is a constant, ongoing challenge for home care agencies. With so much competition in the industry, caregivers have plenty of opportunities available to them. How can you ensure that your agency stands out from the crowd in terms of caregiver recruitment to become the employer chosen by your area's top talent?
Home Care Pulse's 2021 Benchmarking Study revealed a sharp increase in the number of participants who reported experiencing an extremely negative impact as a result of the caregiver shortage compared to the past two years, likely linked to:
An increase in older adults who choose to remain at home as a result of the COVID-19 pandemic
An increase in the number of seniors in general
The competitiveness of the home care industry, as multiple agencies try to attract employees from the same pool of area caregivers
Higher compensation and benefits provided by other industries
And more
Your agency needs to think creatively to ensure you have the qualified staff needed to meet both today's and future home care demands. These tips are a great place to start.
Caregiver Recruitment Ideas
Visit local high schools, community colleges, and universities to present opportunities to graduating students (or even those still in school but looking for a part time job), especially schools that offer CNA certification classes.
Place big, bright stickers announcing your agency's job openings on coloring books and deliver them to daycare centers for the children to take home to parents who may be looking for jobs with flexible schedules.
Pick a day to offer open interviews and advertise throughout your community: in apartment buildings, banks, hair salons, veterinarian offices, etc.
Offer jobs through a women's shelter to residents who have a clean background check and are looking for a fresh start.
Host lunch-and-learn presentations at seminaries, churches, religious colleges, etc. where the population is especially service-oriented.
Target people who have worked in mindfulness/nurturing fields, like yoga instructors, massage therapists, holistic healers, etc.
Caregiver Retention Ideas
Once you've gotten the attention to your area's best caregivers, you need to show them why they should stay with your agency long-term. Try:
Showcasing your agency as an enjoyable workplace. In-home caregivers may feel lonely and isolated in their work. Provide opportunities for caregivers to get together on a regular basis just for fun: a staff picnic with good food, games and prizes; an outing to a local amusement park; participating together in the local walk to end Alzheimer's. Seek out ways to allow caregivers to form friendships and socialize while showing them how much you appreciate and value them.
Offering bonuses. Offering competitive wages is crucial, but piggyback on this with substantial hiring bonuses, staggered at different stages of longevity: at a caregiver's 30-day anniversary, 60-day anniversary, 90-day anniversary, etc.
Rewarding existing employees. Honor your current caregivers with pay raises, bonuses, awards, and referral fees. Hold a celebration for long-term staff. Make it abundantly clear how much you value and appreciate them, which naturally helps boost loyalty and retention, but also provides incentive for them to invite their friends and family to apply to work for such a great agency as yours.
Revisit Your Application Process
You may be losing great caregivers simply due to a cumbersome application process. Try these tips to make it easier:
Reduce the questions you ask in the initial application process.
Make sure your application is mobile-friendly.
Don't require caregivers to upload a resume.
Highlight the benefits you offer first – especially your differentiating factors.
Always request a cell phone number on the application. Caregivers may be more likely to respond to follow-up texts than emails.
How Rosemark Can Help
Rosemark's customized home care software solutions help streamline the many aspects of running and growing a home care agency, including caregiver recruitment and retention. Our caregiver management tool simplifies hiring, onboarding, and management of staff, freeing up more time to focus on ensuring your staff are satisfied – ultimately leading to improved client satisfaction as well.
Contact us at 734-436-2631 for a free demo of our caregiver scheduling app and other software features to learn more about this and our other tools to improve your agency's efficiency in home health scheduling, care delivery, operations and reporting, and more.