Anyone who works at or runs a home care agency understands there are many things going on in the background that are helping to make that agency successful. In order to create traction and continue growing a business, many agencies have employed the use of a home care management software like the Rosemark System.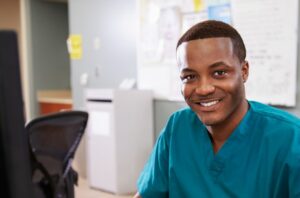 Rosemark and other software companies are most notably known for their electronic visit verification functionality and the ability to create schedules, care plans, billing, etc. One of the most overlooked and underutilized features of Rosemark is its ability to function as a Customer Relationship Management system, also called a CRM for short. 
As its name suggests, CRM functionality helps home care providers track all sorts of data, customer interactions, client notes, caregiver reports, and so much more. We suggest that our agencies use Actions in Rosemark to help administrators keep track of all this data in an easy-to-use and easy-to-understand way. 
What are Actions in Rosemark?
Actions are meant to be all an-in-one note-taking CRM tool in Rosemark. There are two types of Actions: pending and completed.
Think of pending actions as things on your to-do list. They can virtually be used for anything you want to be reminded to do. Examples include:
Reminders to call clients or client leads

Follow-ups with caregivers or applicants

An alert to send out updated pay rate information

Networking with your referral sources

Expiring caregiver credentials or client compliance requirements
Completed actions are to-dos that have been checked off the list. It's important for agencies to have a record of what tasks were completed for clients or caregivers.
Actions are a really great tool to use as a:
Call Log feature

Note-taking feature
Sometimes Actions can be overwhelming because they are so flexible agencies often don't know where to start. So let's discuss this further.
Action Types to Start With
What is the process in your agency for making sure specific tasks are completed? How do you want to organize things so your business runs more efficiently?
Rosemark recommends each agency start with at least three Action types. Those types are customizable, so consider starting with something easy yet relevant like "Phone Calls" or "Incident Reports."
When a client calls in with a question, problem, or complaint, staff can then log that discussion under the Phone Call Action type. Let's say a client wants to change their dates of service or they have a question about bill rates. 
With Actions, agencies can put in a summary of the call, like "Schedule Change Requested," and then put additional information in the comment field. It's up to each agency how much detail should be inputted into those fields.
Actions in Rosemark records who made the Action and the time at which it was made. This allows agencies to later take the following steps:
Look up Completed Actions for reference

Select the category they want to look up, such as Phone Calls

See when an Action took place and check the notes
Agencies can create Actions about clients, caregivers, staff, referral sources, etc. Every role in Rosemark can have Actions associated with it. Users can even put Actions in on their own profile to create a personalized to-do list. 
There will be a "sweet spot" for each individual agency on how granular the Action types need to be. The key step is to decide what Action types your agency wants to track and be consistent with using them.
Because they are fully customizable, each agency can label their own Action types to sort through.
Tracking Sales and Marketing Activities
Administrators can keep track of productivity, history, and communications in a very easy and transparent way when using Actions. This comes in handy when keeping track of sales and marketing activities.
For example, an easy way for agencies to keep up with completed Actions is to sort to a category like "Phone Call," change the date to "today," and watch as that list automatically updates in real-time. 
This provides a clear and concise view of what's actually happening throughout the day to determine if the sales and marketing teams are hitting their call goals
Types of Actions
This tool is also good to use for Incident Reporting. If something happens to a client and the caregiver reports it, agencies can use an Action type called "Incident." By noting incidents and recording follow-ups, agencies can more easily determine if a client needs more services. It can also help caregivers recognize if their client might have a larger problem such as a balance issue they should see a doctor about.
Hospitalizations are another type of Action that can be recorded in the Rosemark home care management system. By collecting information consistently, agencies can determine on a big-picture scale how often a client has been hospitalized over the past year. 
Agencies that want to increase caregiver retention might have a point system in place. Actions in Rosemark is a great way to record those times when a caregiver goes "above and beyond." Administrators can then add those points up and dole out gas cards or gift certificates as a rewards system to help increase retention.
Finally, schedulers can also greatly benefit from this feature in Rosemark. Let's say your front office person is taking calls from clients, but that person is not privy to schedules or client details. The front office person can create Actions requesting someone who does know what's going on with that client follow up, so nothing falls through the cracks. Users can also create a new follow-up Action related to the original one.
For caregiver compliance, Actions can be used to track who isn't clocking in and out on a frequent basis. This can be recorded under the caregiver's profile. Agencies can keep track of how many times they've had to contact a specific caregiver because they didn't clock out of their shift.
Another great use for Actions is to keep track of caregiver testing, recertifications, and credentialing. For example, set up a type of credentialing item to keep track of, put in an expiration date, and Rosemark will automatically create a pending action. The caregiver can be emailed or texted from that pending action letting them know they need to renew their CNA license or get their TB test, etc. 
The agency can then mark that Action as completed when the caregiver provides the proper proof of completion. Then, a new expiration date can be added to that Action so it will automatically be put back into the system to create a new Pending Action when the time comes. The system maintains a historical record of every time it has been updated.
Same thing with clients. If you want to track things like:
Assessments

Supervisory Visits

Service Agreements

Birthdays

Anniversaries
Other CRM Tools in Rosemark:
In addition to Actions in Rosemark, there are other tools, features, or tracking mechanisms within the system that can easily be used in a CRM capacity. Here are a few examples:
Lifecycle Insights

: Agencies can track the lifecycle of client Leads. Why didn't someone become an active client? Your business can mine historical lead data to find and work old leads if you start providing a new service or operating in their area of town.

Caregiver Leads

: Hiring in this market is tough. Keeping a list of potential caregivers who weren't hired due to scheduling conflicts is a great idea. As shifts become open that meet their availability, agencies can reach back out with a new job offer.

Referral Tracking

: Who's sending your agency clients? Where are marketing efforts best spent? Should you increase your search engine optimization or local advertising?

General Business Contacts

: Good examples of general business contacts are those an agency uses to do semi-regular tasks like sending flowers on birthdays. It's also convenient to store contact information for vendors the agency uses to purchase PPP/PPE items or office supplies. 

Agencies can use Actions for those contacts as well. An example of this would be if the flower shop gave the business a 10% discount coupon, that coupon code can be stored in Actions.
A Few Additional Notes
The Pending Action Window only appears if Pending Actions are set for the date range specifically being looked at. By default, Rosemark applies a 14-day window to the Pending Action Window. This window includes 7 days into the past and 7 days into the future. This is completely adjustable! Customers can reach out to Customer Care to adjust the date range to their specific preferences.
Additionally, Pending Actions only fall off the list if they are outside of the date range or if they've been marked as completed. If they fall off the list, they are still searchable and stay in the system.
The "Comment" field on client and caregiver profiles in Rosemark is not lockable, so when it comes to day-to-day note-taking, it's recommended to put important information into the system as an Action. Actions can be locked so no more changes can be made to it during specific situations. For instance, if a staff member does something for which they get written up, that should be placed as a locked Action so no one in the company can go in and make changes or erase that data. 
Actions in Rosemark are a nice way to organize the day-to-day details of the business without worrying that a note got accidentally tossed into the trash. People don't always think of using their home care software for this purpose, so it's almost like a hidden gem.
To learn more, visit the Rosemark User's Guide or watch this training we did specifically about using Actions in Rosemark.