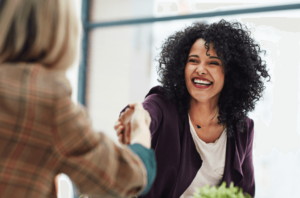 Referral relationships are vital in building and sustaining a successful home care agency. Strengthening relationships with referral partners is one of the top opportunities for growth for agencies, but the pandemic hindered that kind of relationship-building for several years. Even now, as life has returned to mostly normal, it can often feel as though you can't get a foot in the door with potential partners. The gatekeepers are strong. You may have also relaxed a bit too much during this time on nurturing the relationships you do have. In order to break down those barriers, it may be beneficial to shift your perspective.
As a home care business owner, you know your company inside and out. You know your services. You know the value they bring to people's lives. You know the problems they solve, not just for your clients, but for potential referral partners. The question is, then, does anyone else know all this? If not, it's time to make them aware (or remind them) of how your services can help solve their problems – note the emphasis on "solve their problems."
Building New Relationships
For new referral partnerships, it's important to determine what problems you can help them solve. Hospital case managers, for example, face the challenge of reducing readmissions for their patients. This is a key problem that home care is proven to help solve. Once you know a referral's pain points, you can use the following tips to help build a new relationship.
Get on their list. There's an old saying, "If you never ask, the answer is always no." The first step to building a relationship with a referral source is to ask how you can get added to their list of referred providers. Case managers, physicians, and other sources often give patients a list of local providers to choose from when they are being discharged or need other services. Ask what the requirements are to get on that list. Does your agency meet those requirements? If not, consider what you might be able to change in order to do so.
Put yourself out there. Do your potential referral partners know that you are well-positioned to accept referrals? If not, highlight your willingness! Also, let them know why your team is uniquely qualified to assist them and their patients. For example, if they serve patients with memory care needs, let them know your robust training plan for caregivers serving clients with these specific needs.
Be a backup plan. The provider may have a number of other providers that they have relationships with, and perhaps they've had those relationships for many years. Let them know that you would be happy to serve as a backup in the event that another agency on their list becomes understaffed or could otherwise not fulfill a commitment to provide care. Caregiver shortages being what they are, it's not uncommon for agencies to have to decline a referral due to lack of staff. Make sure you have a plan in place to handle short-notice referrals and are ready when the call comes. Being able to step up in a provider's time of need could lead to even more referrals in the future. Be their dependable problem-solver.
Nurturing Existing Relationships
It is equally important to nurture any existing referral partnerships that you have been able to secure over the years. To keep the pipeline open, use the following steps to ensure that your agency remains in good standing with current referral partners:
Keep the lines of communication open. The key to maintaining any relationship is open communication. Reach out to referral partners about your shared clients, and help them remain informed about evolving needs when relevant. Make sure to share any health obstacles that your client has faced at home and how your agency has helped them solve those issues.
Give them something to talk about. Most case managers are not allowed to recommend a specific agency from their list of providers, but they can tell families about good things they've heard about local agencies. Therefore, it is vital to make sure that you provide the exceptional care that will ensure that word gets back to them. Using tools to measure client satisfaction can also provide you with real data to share with referral partners so they know just how pleased your clients are.
Stay top of mind. While you may have received referrals from a source in the past, it's still important to make sure that they remember your agency and know that you are ready to accept referrals. Reach out to them on a regular basis to remind them that you are there for their clients, what makes your care team different from others, and any other ways in which you are prepared to help them meet their goals. In your communication, stay in the problem-solving zone to keep these conversations about them, not you.
For home care agencies to stay competitive in today's marketplace, and ultimately to avoid a revenue plateau, it is essential that the sales team ensures business is coming in from a variety of sources. This means that building and maintaining strong relationships with referral partners is crucial. Building trust, communicating effectively, and applying the right approach with the right people will help your team strengthen relationships throughout your community.