Rosemark's customers can experience the latest technological enhancements when using the intuitive new caregiver app.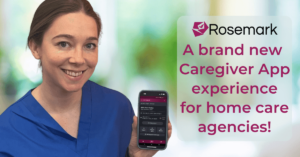 As the landscape of the home care industry continues to evolve, the Rosemark System remains at the forefront of home care software advancement. Since the passing of the 21st Century Cures Act in 2016, the list of rules and regulations with which home care agencies must stay compliant has continued to expand. 
To help home care agencies manage their day-to-day operations and businesses with greater efficiency, Rosemark has continued to advance its technology and add to its storehouse of features and offerings.
Rosemark just launched its brand new caregiver app, an intuitively designed tool built with its home care agency's needs in mind.
"We listened to our customers, and what we routinely heard was that many of their caregivers struggle with the technology for various reasons," explained Robin Tuck, Rosemark's product owner.
"Our goal in building this new caregiver app is to provide a tool that is as user-friendly as possible for caregivers," she continued. "Their entire focus should be on providing excellent care, so a brand new app that is more intuitive, more efficient, and more streamlined is our answer to that frustration."
Rosemark's original Caregiver Mobile App was one of the first in the industry, but as technology has changed and cell phone use has evolved, the company felt it was time to use new innovations to create an enhanced app and user experience.
The new app includes a color-coded calendar that makes current and historical shifts easy to view at a glance. Caregivers can quickly review client ADLs, respond to shift offers, and access important client details.
"As an agency owner and as a registered nurse who uses the app, I love the improvements in the new Rosemark App," said Daniel Story, founder of HomeJoy. "It is much easier to read, navigate, and document tasks in the app. 
"I am so happy to not need to constantly be printing paper care plans since the app gives my employees all the information they need to do their job," Story concluded.
Crafted to meet electronic visit verification (EVV) requirements, caregivers can clock in and out on the app or use the updated Offline Mode feature in rural or spotty Wi-Fi areas. Offline Mode collects GPS and EVV data while internet or mobile data are unavailable, then uploads it once connectivity is restored.
Home care agency caregivers can also easily see and manage Shift Offers in a calendar view rather than browsing through them in list mode. The new design improves Shift Offer workflow, allowing caregivers to see their availability and accept more Shift Offers that fit their schedules quickly and easily.
In addition, simplified prompting and workflows allow for quick, efficient usage of day-to-day features. The caregiver app also requires fewer clicks for common tasks, so caregivers can spend less time on their phones and more time providing great care.
The new Rosemark Caregiver App is available now in the Google Play Store and Apple App Store.
What's New at a Glance:
Caregivers will find it easier to view tasks for clients and see what shifts were worked and what tasks and activities of daily living (ADLs) were performed

Increased efficiency with reduced button pressing for things like clock-ins and clock-outs, ADLs, etc.

Improved task and client functionality

Color-coded, intuitive calendar for viewing shifts

Updated reminders for missing information that provide clearer next steps.

Updated aesthetics with a modern, sleek feel

Shift Details and Shift Notes

Voice Messaging

Enhanced Client Signatures collection

Navigation using maps in the app

Track shift-to-shift travel time
For more information about the Rosemark System and how it can help home care agencies become compliant with Medicaid's EVV requirements, easily bill the Veterans Administration, or streamline the operations of a private-pay agency, call (734) 436-2631 or visit https://rosemarksystem.com/contact/.