Our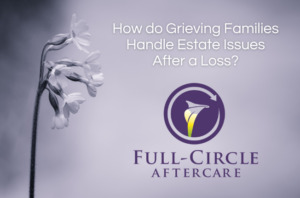 Rosemark System customers are very important to us, so when we run across resources we feel would be a valuable benefit to our home care agencies and their caregivers, we want to pass it along. One such resource is Full-Circle Aftercare. We know losing people we care about – from relatives to friends to clients – is very difficult, and the services Full-Circle Aftercare offers help families with estate issues that they have to deal with after the loss. They will even help families find resources to deal with the grieving process. We've asked Full-Circle Aftercare some questions about what they do and how they can be a resource for our home care agencies, your caregivers, and their clients. Their responses are as follows:
What is Full-Circle Aftercare?
Losing a loved one isn't easy. The pain is compounded by dealing with the stress and worry of wrapping up the estate issues and notifications. We take care of the necessary tasks for you, so you can mourn with your family and friends without worrying about things being overlooked.
We help families close their loved one's estate; we help you make the official notification of death to necessary government agencies, financial institutions, insurance companies, etc. We will do all the talking for you, so you don't have to worry about knowing who to call or what to say. We make sure you won't miss out on any of your benefits. We are experts in helping you get what you are entitled to from institutions like Social Security, pension companies, insurance, and so forth. We protect you by stopping junk mail, blocking solicitors, updating the deceased registry, canceling memberships/subscriptions, and setting fraud protection for 1 year.
For those who aren't aware of your service, what are the most significant ways you find your company is helpful during the grieving process?
Most people, after they lose a loved one, have limited time off; they do not have the time or the ability to deal with all the paperwork that their loved ones' estates leave behind. One thing that is important to understand here is that almost every person you know has some type of "estate" – bank accounts, social media accounts, and the list goes on. We help the families by doing this work for them and with them. We want you to focus on starting your grief journey.  
What are the mistakes families most often make after the death of a loved one?
Most families contact the bank and tell them that their loved one has passed away. This can cause all types of issues, if there is not another bank account with that person's name on it, then where do social security checks go or where does that iCloud payment come from? If you are unsure of the next steps, we are happy to address a couple of questions for you.
What tips/helpful information do you have for families that lose a loved one to help them navigate the paperwork trail?
There are so many things to tell family members when they lose someone. My biggest thing is this: You are not alone, and we can help you through this. Get your loved one's paperwork in order and our Estate Specialist will help you do the rest. One day at a time.
Do you also provide resources to deal with grief?
We do not provide grief resources, but we can point you in the right direction on where to find grief support throughout the US. We have a network of professionals that we work with across the country and your Estate Specialist will help you find all the resources you and your loved ones need.
Does my attorney need to be involved in this process or can Full-Circle do what they need to without my attorney?
We are not attorneys but have worked closely with several in the past, including estate attorneys. We work with families on getting all of the paperwork ready so that you have something to take over to your attorney or other professionals you will be working with to close out your loved one's estate.
Do you help all families or just families of older adults?
We help loved ones of all ages. If you are unsure if your loved one's estate qualifies for our service, one of our Estate Specialists would be happy to speak with you about it before you purchase our package.
What are the benefits of using Full-Circle versus trying to do everything on my own?
In most cases, we can close a family's estate in about 2 weeks. If a family tried to do this on their own, it typically takes them 18 to 24 months. This is for several reasons: we do this day in and day out. This is our full-time job. When a family is working on this most of the time, they are not lucky enough to have two weeks off straight to work on these tasks.
How soon after the death of a loved one should I contact you? 
We typically start to work on an estate two weeks after the loved one has passed. However, the sooner we speak to a family member the better. There are just some things that need to be addressed in the first few days after a loved one has passed away.
How can I learn more? 
You can find out more information or reach out to one of our Estate Specialists on the Full-Circle Aftercare website.