Over the past few years, the VA Community Care Network has become one of the fastest-growing referral sources in home care. Reasons for this growth include attractive rates, transparent processes, Third-Party Administrators, and an industry-wide push towards diversifying payer lines.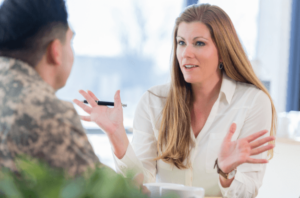 As with any opportunity, this one comes with its challenges. For many home care agencies, the VA remains a black box. They are not sure how it works but may understand the opportunity at hand. For those who already work with the VA, there are other struggles, such as billing, growth, collections, and recoupments.
This article aims to give a brief overview of how the VACCN works and how Paradigm has created a one-of-a-kind solution that already helps over 2500 home care agencies across the country with every aspect of their interaction with the VA Community Care Network.
The VA Community Care Network
In short, the VA has an obligation to take care of those who so bravely served their country. In general, this care is provided at VA Medical Centers, outpatient clinics, and other institutions.
Some forms of care, however, are not available directly from the VA. In that case, the VA often partners with 'community providers' who can provide this care. Home care is one such service, more specifically Homemaker, Home Health Aide, and Respite services.
The way it works is as follows. If a Veteran is part of the VA Health System and has a demonstrable need for home care or struggles with Activities of Daily Living (ADLs as approved by a VA physician), a social worker or case worker can then refer them to a community provider.
To become a community provider, home care agencies first need to get credentialed with either Optum or TriWest, who are the Third-Party Administrators that govern the enrollment process as well as the billing and payment cycle.
Click here to learn more about getting started with Optum and Triwest.
Once enrolled, the community provider is eligible to receive referrals. Once they take care of the Veteran, they then submit billing to either Optum or TriWest, depending on their region.
VA Billing Challenges
Navigating the intricacies of VA billing is no easy task, and for home care providers working with the VA, it presents a set of unique challenges. Below are some of the challenges faced by many agencies.
Perfect Match To Authorization
Home care providers must ensure that the hours and services they provide align perfectly with the authorization granted by the VA. This means adhering strictly to the specified scope of services, frequency, and duration as outlined in the referral. Any deviations or misunderstandings can lead to claim denials or recoupments.
Recoupments
If the VA, Optum, or Triwest, determines that a claim was improperly billed or not in compliance with their regulations, they may initiate a recoupment process. The provider will then have to repay the funds previously disbursed for the services provided to the Veteran.
Timely Filing
Home care providers must ensure that their claims are submitted within 180 days from the date of service to be eligible for reimbursement. Failure to meet these deadlines will result in claim denials, causing cash flow issues for the home care agency.
Rates and Billing Codes
Using the correct rates and service codes is crucial for proper claim submission. Submitting billing with incorrect codes can result in claim rejections. Furthermore, due to variations in VA rates depending on the location of care administration, which can differ from one zip code to another even within the same state, many agencies encounter difficulties in effectively managing different rates for multiple clients.
View your reimbursement rates here.
The Paradigm Touch
Navigating the complexities of billing, credentialing, and ensuring a perfect match to authorization requires a dedicated and reliable partner. This is where Paradigm comes in – Our comprehensive suite of services empowers home care providers to overcome all VA hurdles.
Automated VA Billing
Our comprehensive all-in-one solution is designed to empower home care providers to confidently serve Veteran clients. By fully automating VA billing processes, our system eliminates the burden of manual tasks, ensuring timely and accurate payments.
Collections On Old VA Accounts Receivables 
If you have outstanding VA Accounts Receivable (AR), Paradigm is here to assist you in recovering the money owed to you. We understand the challenges that come with managing aging AR, and our expertise and proven track record enable us to achieve remarkable success in collecting old AR, even those that are up to six years old.
Credentialing
Paradigm supports your enrollment into the VA Community Care Network via Optum and TriWest. We ensure that the correct information and documentation are always collected and maintain clear communication.
Authorizations
Juggling multiple authorizations can become burdensome, given their varying expiration dates, validity periods, and inclusion of different services. With Paradigm's integrated authorization manager, you can rest assured that your referral renewal requests are submitted on time, ensuring uninterrupted coverage for your clients without any lapses.
Support And Education
With our unparalleled support and education, we go beyond just offering a software solution. Our team provides the guidance and assistance needed to navigate the complexities of working and growing with the VA. We understand that success lies not only in the technology but also in equipping providers with the knowledge and resources necessary to optimize their operations and marketing efforts.
Closing Remarks
If you're ready to overcome the challenges of VA billing and achieve unprecedented success, contact Paradigm today.
Our experienced team is ready to assist you in navigating the complexities of the VA. Let us be your partner in providing exceptional care to our deserving Veterans while ensuring the financial health of your organization.