In the previous millennium, I worked at a couple of IT staffing agencies in succession, one a very large and well-known corporation and the other a smaller, growing organization.  Each company was in essentially the same business: fielding staff at other companies at an hourly rate. The larger company had paper timesheets with carbon inserts; the field staff got their company supervisor to sign them after which staff would either mail them in or try to hit the main drop box at their main office.
The smaller company did the same for a while, but management was very interested in leveraging internal IT as a strategic investment for driving company growth. As an IT staffing agency, it was a fair assumption that each field staffer had a computer on his or her desk; thus this effort would focus not only on increasing productivity in the central office but also on increasing field staff self-service capability.
The biggest ROI on the effort was the ability for field staff to manage more of their own tasks including making 401 K changes, adding a new dependent to their insurance, updating their W2s, or requesting vacation time. For a growing staffing agency, the more tasks the field staff can manage on their own, the easier it is to grow the business without exploding the number of personnel in the central office.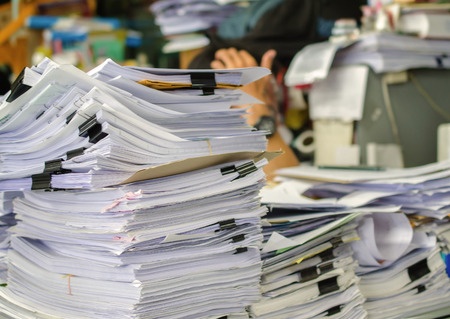 Home care agencies are also looking for ways to increase automation and reduce manual processes to minimize waste and maximize productivity. Unlike an IT agency, the challenge in home health care is that many of the tasks the staff and caregivers must implement are bound either by regulation – there are HIPAA restraints on keeping the client data on the device private, there are Medicare- or state-driven requirements for logging caregiver time for reimbursement; or medical imperatives – some items on the client's care plan are mandatory and must be recorded as complete after each visit.  Even with these constraints, the net positives for implementing more caregiver self-service and automation are many-fold.  Knowing if a caregiver is going to be late, or if another caregiver is in the area, or automating the ability for caregivers to accept or reject a newly-opened shift, or enabling dynamic care plan changes ("client's child won't be in this evening, please do fix the client's evening meal") or even enabling automatic location – and time-based shift logins.
Since my time at the IT agencies, computers have become more ubiquitous; growing smaller and more powerful, giving smartphone users the power of a desktop in their pockets.  Today's smartphones come complete with mobile browsers, location sensors, video and audio recording tools, document viewers, and more.  Many smartphones come equipped with cameras of such high resolution they'll even work as a form of a hand-held document scanner, and can upload to a remote server for either manual form processing or even automatic optical character recognition (OCR). The trick for home care is to leverage these new devices to increase automation while protecting client and caregiver personal information.
Rosemark's current web and mobile applications represent the first phase of an increased automation solution to help our customers reduce errors, increase oversight and manage growth.
Rosemark's mobile development strategy is to implement a range of key features such as shift planning, login and coverage, credential documentation and tracking, general documentation, and caregiver communication through our caregiver mobile app. The goal is to retain our foothold in the emerging mobile management space with the same attention to regulation and medically-driven requirements our customers rely on every day in Rosemark.
By Partick Haggood – Mobile Application Developer, Patrick is leading the charge on building a really cool caregiver app so caregivers can log in and log out with their smart phone. This app uses GPS to confirm caregivers' locations as well.