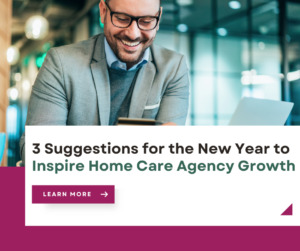 There are unique challenges to effectively managing a growing home care agency business. Fortunately, there are universal techniques to help increase the discipline you'll need to learn new ways of doing things, with the ultimate goal of building a strong productive home care agency.
Whether you're a manager or owner, keeping your emotional and physical health tip-top is number one in my book for growing a successful business. Amp up the energy you'll need to be aware of the needs of your staff, clients, and caregivers by taking good care of yourself first. You'll be able to make the space to step back, review, and take mindful actions to remedy any situations that come up.
These three bits of guidance will help you to get into that space. I am confident that these fundamental concepts will inspire you and give you a solid foundation so you can make clear, confident decisions in the coming year to inspire home care agency growth.
Cheers to Your Accomplishments
It's not narcissistic to give yourself a little praise every now and then. Take the time to reflect on and acknowledge your successes. You've worked hard, helped a lot of people, and already achieved a lot in your life. Take a few minutes to reflect on what those things are and how they have gotten you to this point.
Recall and write down the good things you have done for others, no matter how small. These deeds may have had an impact on someone that you care about or had a hidden effect on someone out in the world that you don't even know.
Not only is it not selfish to think in this way, but it acts as emotional nourishment for you going forward. It is a stepping stone to even greater work in the future. It gives you the energy to help others.
I have spoken to hundreds of home care agency owners over my decades here at Shoshana Technologies and Rosemark System. Their amazing deeds range from the coordinated care of thousands of elderly folks to simple thank you cards to their caregivers, taking their family on never dreamed-of vacations, staff lunches, heartfelt condolences to family members, and hundreds of lovely gestures too numerous to mention. No matter how small, they are uniquely important and appreciated by people that you care about and serve.
Don't throw away all of those thank you notes you have received from your clients, your caregivers, your staff, etc. Take these notes out periodically and read through them, especially if you are going through a rough patch. It can lift your spirits pretty quickly and give you the energy to keep plugging away. Encourage your office staff and caregivers to do the same.
Need a good read to help jump-start the idea of self-applause? Check out "The Positive Shift" by Catherine A. Sanderson or "Get Out of Your Own Way" by Mark Goulston and Philip Goldberg. For a slightly different tack try "Self-Compassion: The Proven Power of Being Kind to Yourself" by Kristin Neff.
Don't Shy Away from Big, Bold Ideas
I bet you come up with big ideas all the time. Most entrepreneurs do. And I bet you are really good at talking yourself out of them.
There are many reasons that your great ideas get derailed. It may feel too big or have too many moving parts. These ideas often beg the question, "Where do I start?" But a hefty goal doesn't mean that it isn't a worthy goal, especially if you can't picture all the pieces.
Go ahead and set big goals for yourself, but then break them down into smaller chunks. Buy yourself a planner, and break down your big goal into smaller pieces. Ask yourself who can help with what, what are your timelines for each, what should it look like when the goal is accomplished, etc.
This will enable you to prioritize and see where there are holes that need to be filled. You will be able to see what you have accomplished and be able to celebrate these small milestones as you go. This can really help you to keep your eye on the prize.
If at any time you feel that you need to adjust your big goal, don't regard it as a failure: take a deep breath and know that you have been paying attention to your progress and your goal's real purpose.
Here are a couple of reads to help you with your goal planning: "Fruition: How Great Ideas Come to Life" by John Lavelle or "Getting Things Done: The Art of Stress-Free Productivity." 
Start to Incorporate New Personal/Professional Habits
Make a list of habits that you want to begin to form (I want to start walking), change (I want to drink more water), or a habit you want to break (I want to stop drinking coffee).
Next, prioritize the list. Do this with the keep, kill or combine method.
Keep: "Yes that's a good one. I'll keep that one on the list".
Kill: "Nope, that one is really not worth my time."
Combine: "These two are really similar. Could I combine them and get better traction on the overall goal?"
What did you discover? Make a note, then you can refer to it later, as new habits are often hard to establish. We've all been there. It takes the average smoker 30 times to quit. There is a physical addiction in the mix there, but the point is to keep trying.
That goes for any habit: if it's a worthy goal then it is worth the effort to keep trying! Now, pick the first one and get started.
Here is an achievable goal combined with a great habit for any home care agency owner or manager: working toward mastery of knowing and understanding the key performance indicators (KPIs) for your home care agency.
Perhaps you've never considered yourself to be a numbers person. After all, you started your business because you really want to help people. Then one day, you realize you can't help as much as you would like because you don't know what numbers to look at to help you see your business story.
You realize you can't begin to know what changes to make in your business without knowing how to use the data that you have already been collecting, and there is so much data that you can slice and dice to help with your home care agency growth.
Check out this blog if you are a beginner to KPIs for your home care agency or this blog if you want to learn how to drill down into more data.
Start a company scorecard of sorts. This way you can build a habit of adding to it and looking at it on a regular basis. This is where you can start small, then over time, as questions pop up, you can add more to your scorecard and better manage your home care agency KPIs.
Soon the numbers will be telling you so much more of your business story. Knowing what to do next will get easier with this new and evolving picture of your business and inspire home care agency growth.
There are some tools in this book to help you with your habit-building: "Forming Good Habits Through Journal Writing: 52 Journal Writing Prompts to Kickstart Habit-Building and Start Achieving Your Goals" by Joann Lindsay.
To Recap:
Take the time to recall all the good you have done. Reflect then recharge your mission.
Don't be afraid to make large goals, break them down into smaller chunks so you don't get discouraged or overwhelmed.
Make new habits. It's good for your brain and can be good for your business. Prioritize the one that makes sense and make it part of your regular routine.
Best of luck with a successful and inspiring business year!