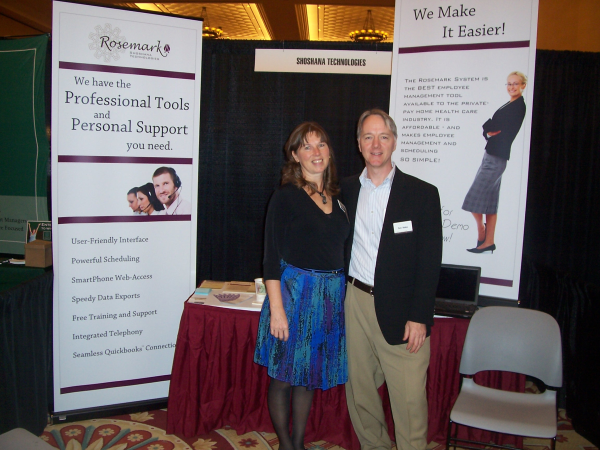 The Private Duty Conference and Expo is put on each year by Decision Health, a well-established provider of home care and healthcare-related publishing and training materials.
The conference this year was a very mixed bag. While it seemed that attendance was down, the people who were there were hungry for information and were quite serious about looking at all the options available. We had a number of in-depth conversations with Home Care agency owners who are investigating better ways of handling their operations through technology. From that perspective, it was one of the more rewarding conferences that we've attended.
A big thread that ran through those conversations was tablet computing. Having access to their data from wherever they might be is extremely attractive. Now that tablets have 'come of age', there's a growing expectation that they should be able to do everything. Systems that are already online (like Rosemark) have a huge advantage, and the desktop-based systems are scrambling to provide some level of support for this paradigm shift.
For field work, tablets are great. They have screens that are large enough to see and manipulate easily (especially important for us "people of a certain age"), giving them a big leg up on smartphones. They are typically smaller than laptops and they are easier to work with in tight quarters or when standing, as they are all screen.
I don't think they'll ever completely replace full-sized computers, though. In the office, spending hours hammering away at data, it's nice to have a full screen and separate keyboard. You can't touch type on a tablet!