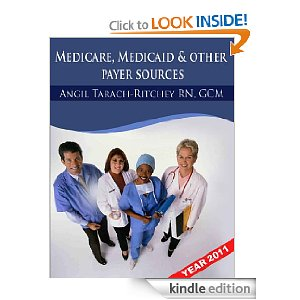 Insurance is something that most of us prefer to ignore as much as possible. Confusing and expensive, it's one of those modern necessary evils that we have to put up with and try not to dwell on. It's usually at the worst possible time that we are forced to figure it out: when we or a loved one are facing something truly frightening and life-threatening.
With all the confusing, politicized talk about the healthcare system, it's good to have someone bring some clarity to the way things currently stand. So much of Americans' healthcare situation is wrapped around insurance, including Medicare, Medicaid and private insurance and nobody seems to understand how they interact and operate.
Medicare, Medicaid and Other Payer Sources By Angil Tarach-Ritchey RN, GCM is a new eBook that offers some relief for this dearth of knowledge. While this book doesn't completely clarify the topic (that's probably impossible), it identifies the main issues and illuminates some of the dark corners. In a very personal, plain-spoken way, the author lays out what regular people need to know to begin to navigate the health insurance maze.
It's clear that the author knows about this from the point of view of the elderly and their families in a very intimate way. Her background as a hospice nurse and home care agency owner has given her a unique vantage point to hundreds of real-world interactions between the various components of our health care system and the people who need and use them.
Many people are sounding the alarm bells about the troubles to come as the baby-boomer generation reaches 'retirement' age. Ms. Tarach-Ritchey gives us a glimpse of a vision of a way for us to navigate the waters ahead.
This book should be required reading for anyone who is helping someone negotiate the insurance maze and anyone facing the uncertainty of growing old in America. I guess that means all of us!