In an effort to help keep our customers and other readers up to date on the latest trends in the home care industry, today we have a special guest post by Tim Rowan, Editor of the Home Care Technology Report. In his post below, Rowan discusses the power of customer reviews, and how to leverage your reviews to improve your online presence. This post provides very valuable information on how you can improve your bottom line through effective online marketing strategies, and we thank Tim Rowan for sharing these insights with us.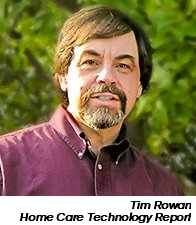 In these times, providers of healthcare at home services need every advantage to win the attention of prospective clients. There was a time when it made sense to invest in Yellow Pages and TV ads, even highway billboards. Those days have past, but, fortunately, they have been replaced by someting less expensive and more effective.
When Mom comes out of the hospital or is discharged from Medicare home health, it is usually the adult son or daughter who is charged with finding a caregiver. These Baby Boomers and Generation Xers do not open the Yellow Pages, and they fast-forward through TV commercials. They go straight to Google, Yelp, or Facebook.
Will they find you there? Only if you appear at the top of their search results. The webinar I recorded for Shoshana Technologies walks you step by step through the tasks you must perform in order to get these adult children to find you and call you.
You will learn:
The importance of a clean, attractive web site, backed up by a strong SEO (Search Engine Optimization) strategy.
How to create and enhance your Google business listing.
How to do the same for your Yelp and Facebook business pages.
The easiest way to populate all three of these business pages with client, patient, and family review.
How Google Local uses reviews to determine your position on their search results when people search for 'home care' plus 'your city'
Customer reviews are the number one key to success today. Google assesses your reviews, all of them, whether they are positive or negative, and gives you a score. The businesses with the largest quantity, the best ratings, and the most recent reviews make it to the top. And there are only three positions at the top of Google Local. Everyone else is hidden below, behind the 'More Places' link (which nobody clicks).
My partner, online marketing consultant Roger McManus, and I are grateful to Shoshana Technologies for hosting this important webinar. I invite you to take a look and see if our ideas might spark your competitive advantage. Our contact information can be found at the end of the webinar, so feel free to get in touch with us. We look forward to hearing from you and helping you wade through the maze that is twenty-first century healthcare at home.