You may have heard the term "Landing Page" recently.
In this article, you will learn what a landing page is, why it's important for home care marketing, how it can help you generate business prospects, and how to set one up.
A landing page is a website page that contains a form for a prospect to fill out and submit in return for information or a video. The form will help you weed out those who are interested enough in what you are selling to give you their information. This information is usually a name and email address; but can also be set up to require a phone number, address, and a short description.
The reason it is called a "Landing Page" is that prospects who search the internet and click on your link will be directed to or 'land' on the page. It is important that the page contain content interesting enough to hold their attention and direct the prospect to fill out your form. You don't have to have just one landing page either. In fact, it is recommended you have multiple landing pages so that you can capture just about anyone interested in your product. Each landing page should be a little different so that you can test variations to see which page brings in the most leads.
The importance of landing pages cannot be stressed enough for your website. Most of the work of finding leads will be done for you with potential customers finding you and submitting their information to you on your website. Cold calling and advertising are still important, but less attention can be paid to these aspects of marketing once you have a good website and well-planned landing pages.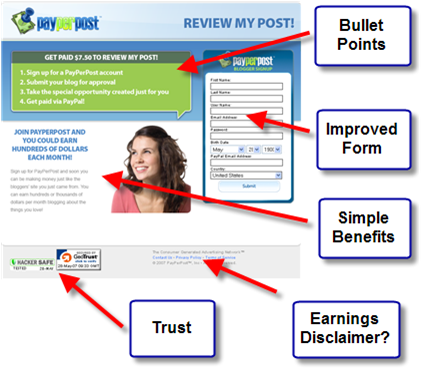 There are just a few simple steps to making a great landing page that will help bring in the leads. The image displayed here (from this site) shows the basic steps in creating a working landing page.
A simple form, a few benefits, your company logo, and a small offer are all you need to make your first landing page and increase your home care marketing.
Link to your landing page in your monthly newsletter emails or on your website. Make a small offer such as a free white paper detailing the benefits of staying at home versus going into a nursing home. When a lead clicks on the link to receive the free white paper they will be directed to your landing page and have to fill out a short form with their name, phone, and email. After you have their information you can send them the white paper and now know that they have some interest in using a home care agency. You can then contact them at some point in the future with a short email containing a link to another landing page which will have a short form to see a demo of your agency in action. If that form is filled out you will know that your lead has an interest in your agency specifically.
In our scenario above you have a prospect who found your site, downloaded your white paper, and watched your Agency demo without you having to pick up the phone!
It won't take long: create your first landing page today and wait for the leads to find you!
For more help on how to get more traffic to your website take a look at our SEO Blog post.
Shoshana Technologies – Help for help for home care agencies.