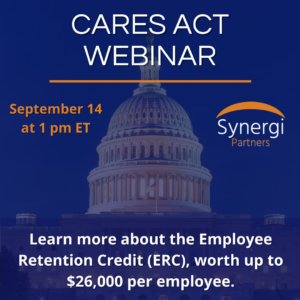 Regulations have changed for which businesses qualify for the Cares Act Employee Retention Credit (ERC), and your business may now be eligible for a tax credit of $26,000 per employee.
The effects of COVID-19 placed intense pressure on the home healthcare industry. Home Care agencies, medical facilities, and healthcare organizations all had to make drastic changes to protocols and policies to comply with federal and state government orders that limited normal business operations. Rigorous sanitation procedures, limited operating hours, and adherence to social distancing protocols are some examples of requirements included in governmental orders that have emerged from the pandemic.
The stories our clients share about their COVID challenges are often the same.  The scenarios below are a few of the most frequent:
Staffing challenges due to government orders impacting caregivers and other health care workers. For example, workers quarantining due to COVID-19 exposure or lacking childcare due to school closures.
Lack of designation as essential workers for home care employees and inability to work.
Reduced or cancellation of medical procedures as a result of government orders prohibiting or limiting elective medical procedures.
Home care clients suspending services due to COVID-19 exposure.
Capacity limitations for patients in hospitals, doctors' offices, care facilities, and other medical facilities.
Many healthcare facilities have faced and still experience a full or partial suspension of operations due to government orders in response to COVID-19. Many home care agencies have also experienced other issues due to these same protocols.  The funds received from the Coronavirus Aid, Relief and Economic Security Act (The "CARES Act ") Employee Retention Credit (the "ERC") can be used for any purpose and can assist home care agencies and medical providers with recovering some of the costs faced as a result of the pandemic.
How the CARES Act ERC works
The CARES Act ERC, which was signed into law on March 27, 2020, was enacted to encourage and assist organizations with the retention of their workforces during the hardship created by the pandemic. The ERC is a refundable employment tax credit for qualifying wages paid by an employer beginning March 13, 2020.
The ERC was originally unavailable as an option for relief to businesses that received Paycheck Protection Program (PPP) loans through the Small Business Administration. However, the Consolidated Appropriations Act (CAA) explicitly provides a retroactive amendment to March 13, 2020, clarifying that these businesses that previously took advantage of a PPP loan can also be eligible to receive the ERC — just not on wages paid with PPP loan funds.
In general, to be eligible for the ERC, employers must have had: (1) a full or partial suspension of business operations due to a government order limiting commerce, travel, or group meetings due to COVID-19; or (2) gross receipts in any calendar quarter in 2020 are less than 50% of the same calendar quarter in the prior year or below 80% for calendar quarters in 2021. These criteria are mutually exclusive and a decline in revenue is not required to qualify for the ERC. If your business satisfies either the Government Orders Test or the Gross Receipts Test, it may be considered eligible.
Essential businesses, including most home care agencies and healthcare facilities, were encouraged to continue operations throughout the pandemic. Because they remained open but faced numerous different operational requirements, determining partial suspension of business operations can take many forms and often encompasses a number of factors, :
Suspended use of certain medical practices or procedures to satisfy government mandates, including elective procedures.
Limited hours of operation.
Halting services due to COVID-19 exposure and quarantine requirements.
Capacity limitations.
Increased sanitization measures which often limited operating hours.
Many healthcare entities including skilled nursing facilities, retirement centers, and home health service providers as well as non-medical home care agencies may qualify for the ERC based on the above criteria. The CAA also contains a provision allowing government entities providing medical or hospital care, which were previously ineligible in 2020, to take advantage of the ERC in 2021.
There is a $26,000 maximum credit per employee under the ERC:
50% of $10,000 in qualified wages in 2020 (annual wage cap)
70% of $10,000 in qualified wages in 2021 (quarterly wage cap)
How Synergi Can Help
Since the start of the pandemic in March 2020, legislation has evolved, and it may be difficult to determine what type of assistance your company qualifies for. At Synergi Partners, we specialize in helping companies maximize tax-credit programs, such as the ERC, through individualized assessments of each client's unique circumstances. Our team of tax-credit industry veterans has more than four decades of combined experience and is eager to help healthcare providers optimize the ERC as soon as possible.
If you need help with applying for government-provided financial assistance or want to know if your organization qualifies for the ERC, reach out here.