At the Paris hotel in Las Vegas it was pool weather, at least for this Michigander. News from home was that between 10 and 14 inches of snow fell in my home state. Even though Las Vegas is not my first choice for a conference location (I have been there many times before) I added an extra day for a mini vacation. This particular conference is always in Las Vegas, so I have gotten to know my way around Vegas. I know what I like to do in Vegas and what I would prefer to avoid. So I spent a good deal of the day reading in a lounge chair and swimming in the pool. Ahhh.  It is interesting that a restaurant, bar or slot machine is always a short stone's throw from any given location within the hotel or anywhere in Las Vegas for that matter. Yet, getting from my room to the convention center in the hotel is probably close to a half mile. I've learned to wear sensible shoes. There is never a problem getting my daily steps in when I am in Las Vegas.
"Should I Go to a Home Care Conference?"

Many customer conversations lead to the question, "Should I go to a conference?" I usually answer by saying that it can be an investment in your business and a potential vacation. If you are running a lone agency there are many reasons to go to a conference like Decision Health Private Duty Conference and Expo. You could talk to other agency owners to find out what they are doing to grow their agency. You could learn about the current best practices in the industry. You could hear what the experts have to say about company culture issues and drill down to the core of your agencies issues as well as other meaningful subjects.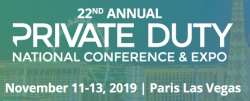 There are many services that you might find, if used well, could add to or enhance your bottom line or improve operations. Services like background check companies, merger and acquisitions firms, insurance firms or companies that help you with Veterans Administration cases.  Software vendors of many types, such as scheduling, EVV, billing, payroll companies, hiring technologies, caregiver training, etc, can be worth a look. Home Care Pulse is also represented there.
There were around 300 attendees and about one third of them were affiliated with a vendor or were there as a speaker. I'll let that speak for itself.
So What Goes On at a Home Care Conference?
On Monday, Nov. 11th, of the Decision Health conference focus was on marketing your home care agency. It was an extra charge to attend on this day. Attendees who wanted to take advantage of this day would hear speakers on a variety of subjects dealing specifically with marketing your home care agency. While it adds to the cost of the conference this extra day could be well worth it. This portion of the conference would have been highly recommended. 
A welcome reception was held in the evening as well as the exhibit hall grand opening. This had very low attendance. I believe that the majority would be tired from an already full day or they wanted to get to dinner and fun in Las Vegas asap. At any rate, it was probably very disappointing for the vendors, especially.  
Tuesday, began the main portion of the conference with sessions beginning at 9am and ending at 5pm. There are several breaks and a delicious lunch was served Paris, Las Vegas style. Eric Madsen, CEO at Home Care Pulse and recently exited Home Care Pulse Founder, Aaron Marcum shared the stage to talk about the caregiver shortage, tools and tactics to get and keep your great caregivers. They announced to those who have not seen the Home Care Pulse Benchmarking study that the caregiver turnover rate has risen to an astonishing 81%. They presented an onboarding and ongoing process to bring success to caregiver retention; a common theme at this and other conferences.
Home Care Agency Owner and Operations Panel
Later, a panel of industry leaders, including Laura Shaw-deBruin of Norwood Seniors Network, a non-profit agency in the Chicago area, Lucy Andrews, agency owner in California and Kanu Kaushal, agency owner in Nashville Tennessee. The panel was moderated by a Decision Health team member and also included an attendee Q&A. They answered a variety of questions about Growth Strategies and Challenges. Here are some of the highlights from that panel.
Kaushal uses the marketing slogan, "We'll give you good hours" He emphasizes that they do what they say. It is important that they communicate with their large caregiver pool to make sure that they make as many caregivers happy with their work situation as possible. Caregiver's unhappiness around work hours is listed as one of the major reasons for caregiver turnover.
Kaushal also suggested that no matter what software you are using, use all of it! Too many agencies are not using the tools that they pay for.
(That is something we, at Shoshana Technologies – Rosemark, have known since the beginning and why we are committed to training and ongoing support. It is not always the fault of the agency that they do not use all of the tools. Many times there needs to be ongoing conversations with the software company about how to get the best utilization of the software.)
Shaw-deBruin stressed having a mentorship program for your agency. This enables a sense of community that is often lacking in a home care agency.
Andrews said that there is a lot of "mutual disloyalty" in the home care industry and suggested that that be a focus if it is a problem in your agency. I would have liked to hear more ideas from the panel on how to correct "mutual disloyalty." It is an intriguing thought and definitely worth pondering.
The panel seemed to agree that it is important to get caregivers to 100 hours quickly and then to 200. It was suggested to give them bonuses of $100 at each of those milestones.
Also suggested by the panel was that social media will become more and more important to marketing your agency. Using social media for brand identification is important for letting your agency customers and potential agency customers view your company almost as a person. 
Big Topics for Home Care in 2020
Many other topics were offered through-out the conference. Here are a few notes:
PDGM (Patient Driven Groupings Model) 

There are 432 possible case mix adjusted payment groups. This illustrates the complexity of PDGM. (See the

Home Health Agency (HHA) Center on CMS.gov

 website for lots of information, maybe too much information.)

Because much of the focus is based on preventing re-hospitalization in the first 30 days of discharge, the first 30 days of care at home after a hospital visit will get 75% of reimbursements.

The care provided after the initial thirty 30 days will see 43% reduction in reimbursements.

1 out of 4 cases nationwide are in the first 30 days.

The math says that many home health agencies are going to be in trouble going into second or third quarters of 2020 with the rollout of PDGM.

Medicare Advantage is going great for homecare but agencies will need to do their homework.

Understanding the Managed Care Organizations (MCO's) will be a necessary  step to becoming a preferred provider in your local area.

Home health agencies will be looking for Private Duty agencies to refer to, it will be to their advantage to have a Private Duty partner. Go out and make those Home Health agency connections!

Angelo Spinola of Littler, spoke of employment law

Know the law when it comes to overtime!
All in all it was a small conference but jam-packed full of very knowledgeable speakers.
I believe that the conference would be much better attended if the cost to attend was not so prohibitive. I'm not sure what Decision Health's strategy is there. I only mentioned a fraction of the speakers and topics covered. You can go here for more information to help you decide if going to a home care conference is right for you.
PDGM and Medicare Advantage are becoming more and more THE hot button topics. Call me if you have questions. I'm happy to help.